The McDonnell Douglas CF-18 Hornet is a Royal Canadian Air Force (RCAF) variant of the American McDonnell Douglas F/A-18 Hornet fighter aircraft.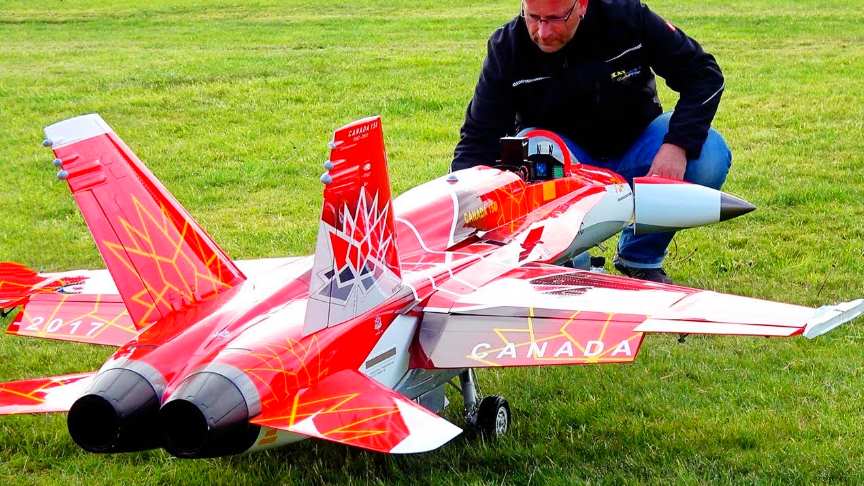 source/image(PrtSc): DIGITAL RC
This giant 1/5,7 scale CF-18 has a wingspan of 2.40m, a lengh of 3.20m and is powered by two JetCat P-180NX turbine engines. THe take-off weight of the airplane is 23.3kg. The airplane comes with detailled Royal Canadian Air Force CF-18 painting with quite a lot detailed features.
The pilot of this airplane in this video is Royal Canadian Air Force CF-18. The airplane inculdes:Scale cockpit set w/o pilot, scale landing gear set, fuel tanks, tail pipe, hardwaer package,pro-extra work done, opening canopy funciton, speed brake door function etc.
Advertisement
Extra Scale details including removable ordnance and tanks, painted landing gear, molded-in panel lines and more.Two-piece wing that bolts into place and a magnetically secured nose cone.Convenient top hatch with clear canopy, cockpit detail and a pilot figure.//DIGITAL RC
Model: Royal Canadian Air Force CF-18 / F-18
Pilot: Marc Petrak
Turbine: 2x JetCat P-180NX
Scale: 1/5,7
Wingspan: 2,40m
Length: 3,20m
Take-off weight: 23,2kg
Event: ProWing 2019, Bad Sassendorf, Germany