The fully integrated Solifer X-GO, which is produced by Hymer, is a luxery German quality camping car that can be used all year round. It has, among other things, a large garage with doors on both sides that provide plenty of storage space.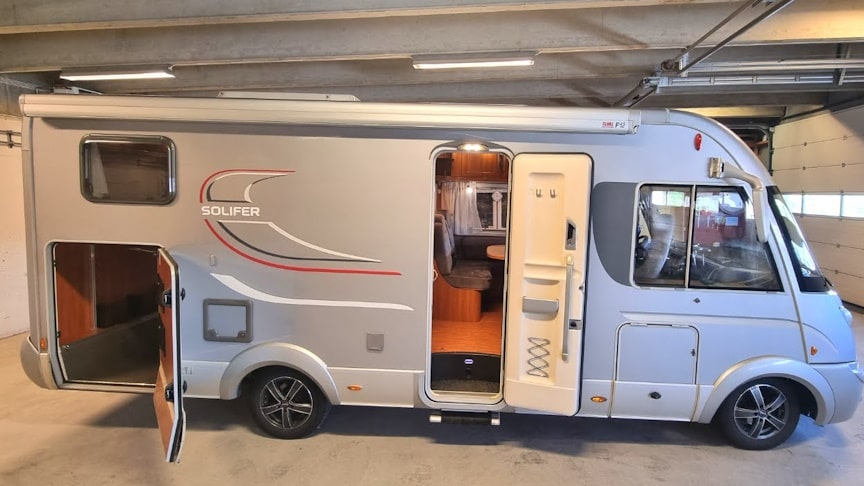 source.image: Bobilagenten AS
The car has a Truma Combi E (with electric element) heating system combined with underfloor heating, so the car can be used all year round including winter. In addition, it comes with a winter mat. It also comes with tailored carpets for the living area. There is also additional LED light in the front which ensures that you can see extra well even on dark roads.
At the front, there is a large double drop-down bed that can be easily raised/lowered. Behind you will find another large double bed. Notice that there is a lot of storage around in the form of cupboards and shelves.Beautiful kitchen with plenty of worktop space and smart solutions with drawers and cupboards. A sink and three cooking rings are available. Large automatic fridge with separate freezer.
Advertisement
The refrigerator has an auto function that switches automatically between 230v, gas and 12v depending on what is most appropriate. Good with drawers and cupboards adjacent to the kitchen.The bathroom has a smart solution with its own shower cubicle solution. The bathroom has a mirror cabinet, storage and sink, as well as a fixed toilet.INFORMATION: Length: 705 cm.Width: 235 cm.Engine: Fiat Ducato 2.3L, 131hp.Total weight: 3,850 kg.Net weight: 3,244 kg.