Hyundai Mobis has released more footage of its Ioniq 5 prototype with the e-Corner System in action, showing how having wheels that can turn up to 90-degrees can dramatically improve a vehicle's maneuverability.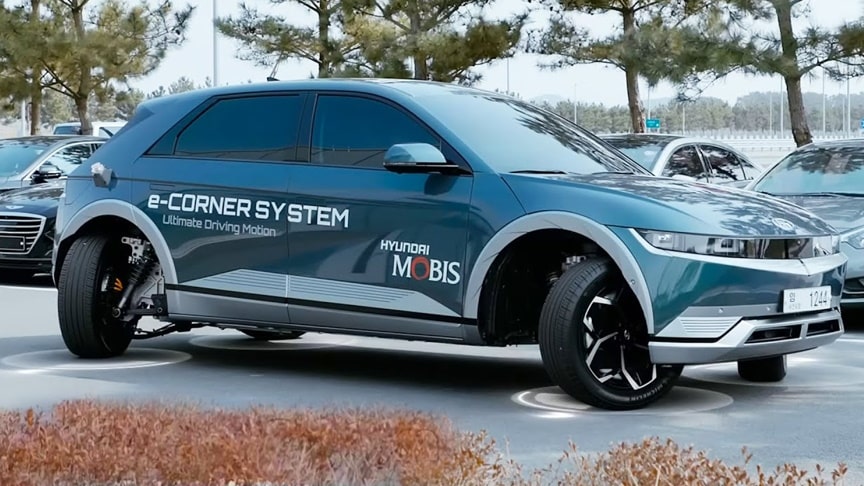 The system developed by the South Korean company consists of an e-corner module at each wheel. This module combines the steering, braking, suspension, and drive systems into each wheel and was actually first previewed way back in 2018. While the system isn't yet ready for production, Hyundai does eventually want to bring it to its future road cars.
This clip demonstrates some of the key functions of the system. The first is the 'Crab Mode.' It works in a similar way to the crab walking function of the GMC Hummer EV but whereas that system can only move the electric pickup diagonally, Hyundai's Crab Walk function can move the car sideways. This avoids the need to parallel park entirely and means you could simply pull up to a space, engage the parking system, and drive in sideways.
Advertisement
Hyundai's technology also has a neat function called 'Zero Turn.' This turns the wheels independently, allowing the car to spin around 360 degrees on the spot. There is also a 'Pivot Turn' function where the rear wheels can be turned in opposite directions, spinning the rear of the car around while the front wheels remain in place. Hyundai has also created a 'Diagonal Driving' mode just like GMC's aforementioned crab walk function.