Meet the rarest of the rare. Only 1 of 9 known to still exist on the planet. The Jeep factory CJ-5 Camper. Amazing piece of history and a really lucky owner. 1969 CJ5 Jeep Camper: One Of The Rarest Campers In Existence.In 1969 Kaiser-Jeep made the bold move to branch out into recreational vehicles. The popularity of RVs was growing throughout the 60's and Jeeps were already popular among outdoorsman. That year Kaiser-Jeep introduced three new RVs as part of their "Great Jeep Escape" campaign.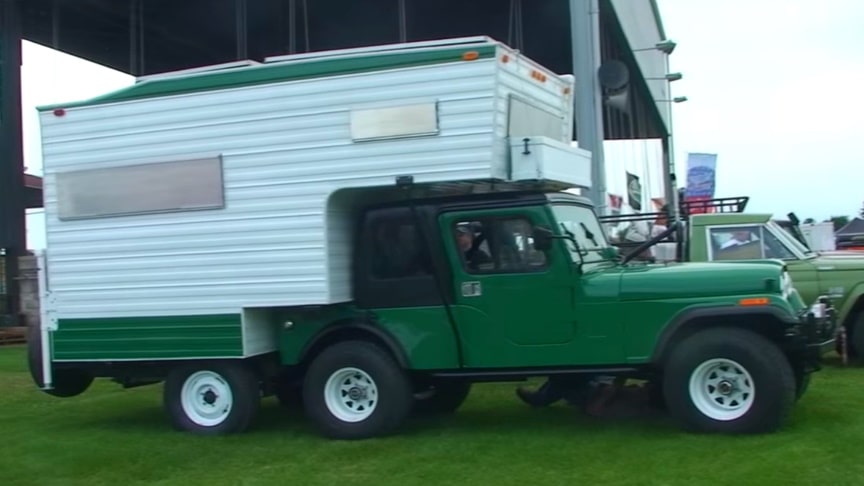 source: cj5camper/image: OCD Offroad
The camper was an El Dorado unit that was manufactured by the Honorbuilt Division of Ward Manufacturing. This camper was mounted in the "bed" of the CJ5, extended beyond the back of the CJ5 and had its own axle, with brakes, that carried most of the weight. It also extended above the front seats of a CJ5 which is where the main bed was located.
It could easily detach from the Jeep through a small opening on the floor of the camper. A large pin would be inserted into that opening and connect the Jeep drawbar to the camper frame. The camper was an option that could be added to any factory CJ5 but it was recommended for Jeeps with the Buick V6 Dauntless engine and 4.88 gearing. Kaiser-Jeep also sold the campers separately as they would fit any CJ5 made since 1955.
Advertisement
The camper had room to sleep 4, 2 in the "loft" above the CJ5 cab (about 4'x6'8″) and 2 others by converting the dining table into a second bed (about 3′ x 5′). It also came standard with a propane stove/oven and hood package, 100 pound capacity icebox, stainless steel sink, 20 gallon water tank and pressure system, marine type toilet and holding tank, dining area, wardrobe area, a vent over the main bed and a dual lighting system (110v and 12v).via/read more: cj5camper