Project Heaviside is Kitty Hawk's latest high-performance electric VTOL vehicle. It is designed to be fast, small and exceedingly quiet. Video shows November 2019 flight test footage from Northern California test site.Heaviside is equipped with a custom aircraft recovery parachute as a supplemental safety system.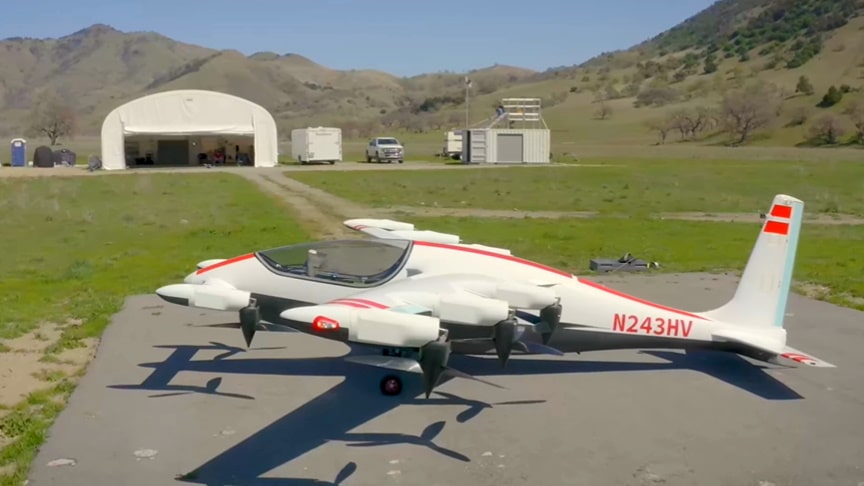 source/image(PrtSc): Kitty Hawk
Through hundreds of test flights, Heaviside continues to prove exceptional handling of single-system faults common-mode failures.100 miles demonstrated on a single charge.Designed to surpass the electric vehicles standards of efficiency, Heaviside uses less than half the energy per mile of travel than a Tesla Model S, at faster speeds.
Heaviside can take off and land in a 30 foot by 30 foot area that does not need to be paved. Through modern integrations of propellers and propulsion units, Heaviside meets and exceeds all criteria for efficiency without burning any fossil fuels on board.
Advertisement
Americans drive an average of 29 miles daily, making Heaviside's 100 mile demonstrated range and 180 mph speed especially capable of getting people where they need to go, while maintaining reserves for alternate landings.
By delivering on every facet of its promised performance, Heaviside represents the largest achievement in demonstrated range and speed in the entire eVTOL market. Heaviside performed over 237 successful transitions from hover to forward flight mode and back, all while maintaining ¼ of the battery charge in reserves.