New 2023 Knaus Tourer Van 500 LT Motorhome, Volkswagen T6.1, Right hand drive. 150Hp with an Automatic gearbox. Finished in Ascot Grey. 2 Berth & 2 Travelling seats.Sporty, dynamic, striking: the VW T6.1 base not only gives the TOURER VAN its unmistakable appearance, but also impresses with maximum driving pleasure, high safety and the best comfort.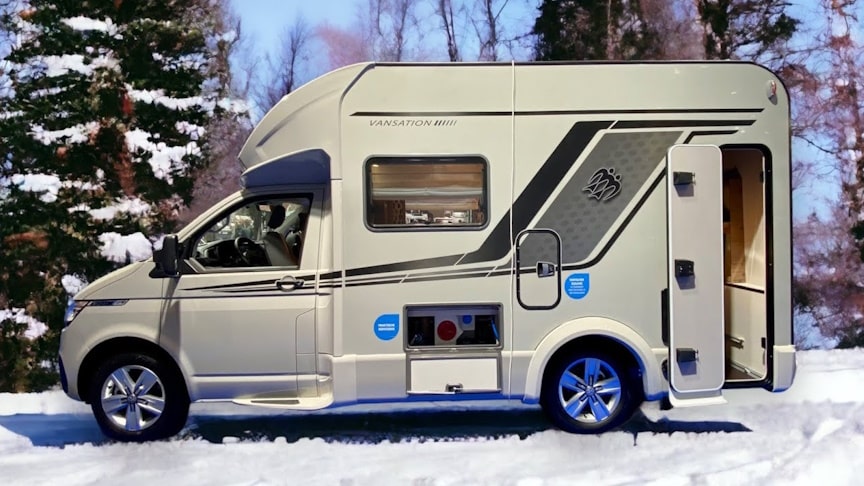 source.image: Campers in Virtual Reality
Light and pleasant materials, an open view and carefully thought-out solutions of the floor plan make the interiors comfortable.The spacious kitchen has a well-designed cupboard, a side-mounted compressor refrigerator, a 2-burner hob, a sink and lots of storage space.
Face-to-face Seating group, the two bench seats and rotating cab seats comfortably seats 6 people in the 500 LT. In addition, the seating group can be converted into a spacious double bed.Fixed bathroom in the 500 LT, the swivel wall can easily be moved into the position you need, this gives you either a spacious shower cubicle or a generous washbasin.
Advertisement
Comprehensive VANSATION campaign equipment as standard, including Automatic transmission, 17″ aluminum wheels, Heated cab seats, Navigation system, Reversing camera, Insect screen door, Electric staircase, Electric underfloor heating and Heated and insulated gray water tank.