Koenigsegg has revealed the final production spec of the Gemera – a car that we first saw in concept form in 2020, and one which the Swedes describe as 'the world's first four-seater megacar' Originally, the Gemera was supposed to have just one drivetrain option: A 600-hp three-cylinder paired to three electric motors, for a total output of 1700 hp. When combined with the Dark Matter e-motor, total output jumps to a staggering 2300 hp and 2028 lb-ft of torque on E85 fuel.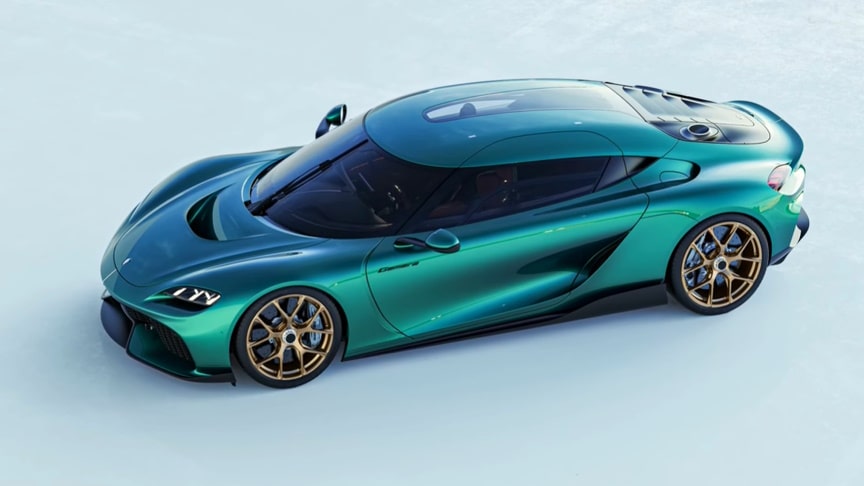 On July 7, 2023 at the inauguration of the expanded factory in Angelholm, Sweden, company founder Christian von Koenigsegg announced that the production Gemera will offer a 5.0L V8 shared with the Jesko as a $400,000 option.he Koenigsegg Gemera V8 offers a total of 2,300 PS (2,269 hp) and 2,750 Nm (2,083 lb-ft) of torque when the internal combustion engine runs on E85.
There here are also three electric motors, one for each rear wheel with 500 bhp and 1000 Nm each and one on the crankshaft with 400 bhp and 500 Nm to power the front wheels; these combine to give 1,100 horsepower of electric power; together with the engine this gives a combined peak output of 1,700 hp, 3,500 N⋅m of torque.The Gemera has a claimed top speed of 400 km/h (249 mph), accelerating from 0-100 km/h (62 mph) in 1.9 seconds, with a top speed of 300 km/h (186 mph) in electric mode.
Advertisement
The Gemera features standard forged aluminum center lock wheels, with a size of 21″ x 10.5″ up front and 22″ x 11.5″ at the back. However, optional Aircore carbon fiber wheels are available.As for the tires, the standard units are Michelin Pilot Sport 4S, while the car can be had with extra-grippy Michelin Cup 2R (still street legal), with both coming in a 295/30 ZR21 size for the front axle and in a 315/30 ZR22 size for the rear axle.