There are those, who are brooding on the past and those, who look into the future trying to find new solutions. Our passion is fueled by questioning of the usual and trying out all the possible solutions out there. We dared to create a new experience: Land yachting was born. Using a three-axle Mercedes-Benz Actros as its base, the Dembell motorhome banks on the luxury of space and materials used inside the living space.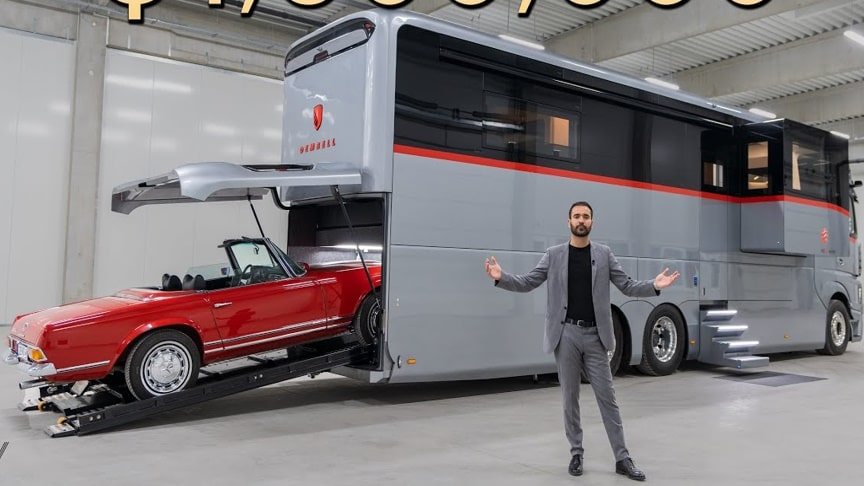 We created a yacht-like atmosphere working on with an Italian studio that previously designed only yacht interiors. The whole furnishing radiates a sophisticated nautical atmosphere. This is what the latest landyacht from Dembell isThis week we are in Budapest, Hungary touring Dembell's newest meticulously engineered Large Garage Motorhome! Watch the video from Enes Yilmazer for more info:
Three slide-out is for travellers who are passionate about their cars, but don't want to give up comfort either. Not only is there enough space in the garage for cars from 4 to 4.5 metres long, but also the bedroom above remains absolutely comfortable.By developing a 9.5 m long aluminium panel, hiding all protruding parts, the hinges, handles and windows and using the best paints available in the market, we created a unique, cleared-out exterior design with the paintwork as beautiful as possible.
Advertisement
Dembell motorhome models are built on Mercedes Benz Actros Gigaspacewith all the existing extras.Large garage with enough space for cars 4 meters long.The floorplan is clean and clever for the maximum space. The open plan layout creates a spacious, adaptable living space for the highest possible convenience. Unique to the market, the floor plan is completely flat without any steps or elevated levels and with an internal height of 2.1 meters, just like a studio apartment.