Italian-based water mobility company Jet Capsule releases its latest water jet model, titled Gran turismo – Foil GT-F. Its latest luxurious marine vehicle design with peculiar physical characteristics, like something out of a science fiction movie.Designed by Pierpaolo Lazzarini of Lazzarini Design Studio.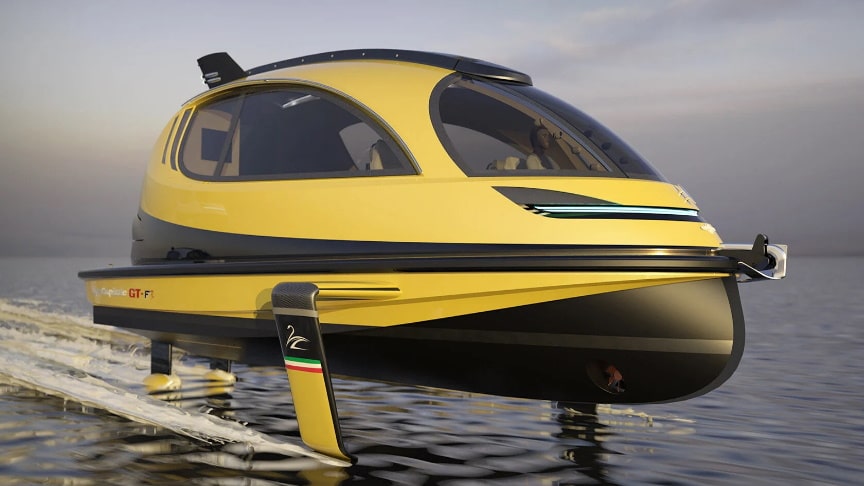 image: Lazzarini Design
The structure of these watercraft is made with a mix of carbon fiber and fiberglass hull and has photochromic windows, which change their transparency in response to light intensity.Meanwhile, it comes with a customizable interior, where clients can configure the boat from 10 passengers for leisure use to 20 passengers for commercial use.
The flying spaceship measures at 10 meters and can be equipped with twin hydrostatic transmissions, capable of a power from 880hp to 1200hp, diesel, petrol or in a full electric configuration. Moreover, with a cruising speed of 35 Knots, the new GT-F can reach an estimated top speed of 60 Knots.
Advertisement
The entire interior is customizable down to the smallest detail, as if it were a business plane. In the most luxurious configuration for private use, the Jet Capsule can include a small kitchen and bathroom as well as beds
Jet Capsule Gran Turismo Foil
9.990 mm (10 Meters/ 32 Ft)
Hydrostatic transmission/ twin 440hp