"In this video, we meet Bonnie from Wakefield, Québec, Canada who is living on a gorgeous tiny house boat that is full of character and charm. The River Den (or La Tannière) has custom-made asymmetrical windows, a classic ship's wheel, antique fireplace, and hand-built furniture — all of which give the boat a warm and cozy feel that makes you feel at home as soon as you step on board."via: Exploring Alternatives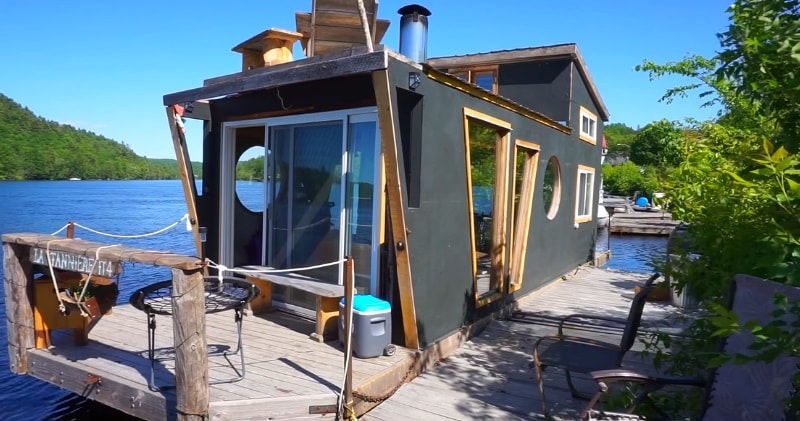 source/image(PrtSc): Exploring Alternatives
The boat is docked on the shore of the Gatineau River and Bonnie lives in it as often as she can when she's not renting it out on Airbnb. The tiny houseboat was designed by Bonnie and her boatbuilding friend, Denis Tremblay, who is known locally as the Wakefield Pirate.
The boat is built on 5 pontoons that are designed to provide flotation while still taking on some water to keep the boat weighed down in the water for stability. It's a 4-season house boat that is fully insulated and has an antique wood burning fireplace to provide heat in winter.
Advertisement
For power, they installed a deep cycle marine battery that provides 12-Volt power for the lights, bilge pump, and navigation lights. The main floor has a kitchen, toilet, dining room and living room, and upstairs there is cozy a sleeping loft with a grill floor that allows heat to rise through the floor, and sun & dust to travel down to the main level.Exploring Alternatives.