Finally here we are, after a long wait here is the video of another jewel released by our company in 2013.Back to us for some updates, including a new color, we decided to make this video.Explained, as usual, by Thomas Ritter, we hope to please you with this MD71HVQ MB Zetros 6X6.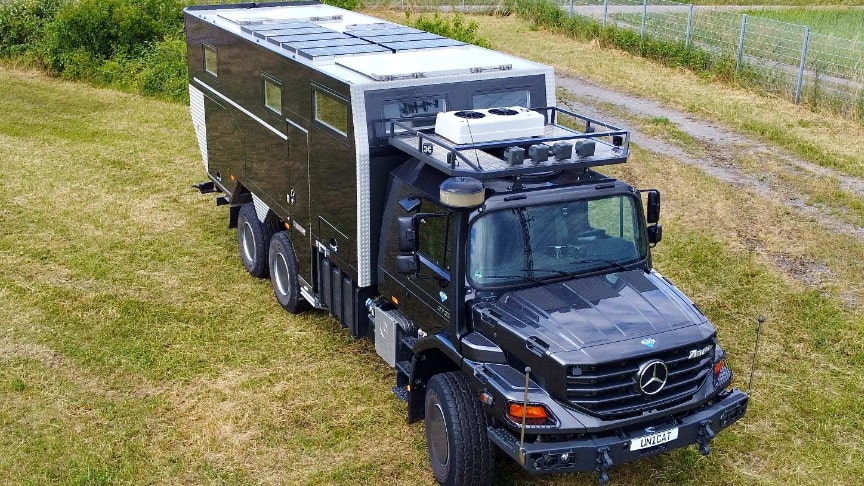 source/image: UNICAT Expedition Vehicles
The Zetros is a good example of a specialized vehicle that its manufacturer built by bundling components that are already available. It uses the same 7.2-liter straight-six OM 926 LA engine.In addition to the engine, the powertrain includes an Allison 3000P six-speed automatic transmission.
The Wheel base of the vehicle is 4745 mm + 1450 mm.Outer dimensions of the cabin.Length 7130 mm (280.7"), width 2480 mm (97.6"), height 2155 mm (84.8") .Inner dimensions of the cabin.Length 7010 mm (276.0"), width 2360 mm (92.9"), height 1973 mm (77.7").
Advertisement
Double bed with suspension, ventilation, heating and comfortable mattress.Bed mounted in rear on pedestal with step box.Large combined shower and toilet room with door to isolate from living area.Cupboard with VARICOR countertop and integrated wash basin.Kitchen:Varicor countertop with integrated stainless steel sink.2-plate induction cooker.Oven with microwave and grill.160 liters (42.3 US gallons) fridge with freezer rated.3 stars .52 liters (13.7 US gallons) fridge/freezer box .Kitchen cabinet with drawers on ball bearings.