Aquanaut, developed by Houston Mechatronics, can transform itself from a nimble submarine designed for long-distance cruising into a half-humanoid robot capable of carrying out complex manipulation tasks.When in AUV mode, Aquanaut can cover up to 200 km (108 nmi) in one mission while accomplishing typical AUV tasks like seabed mapping, and wide area structure inspection.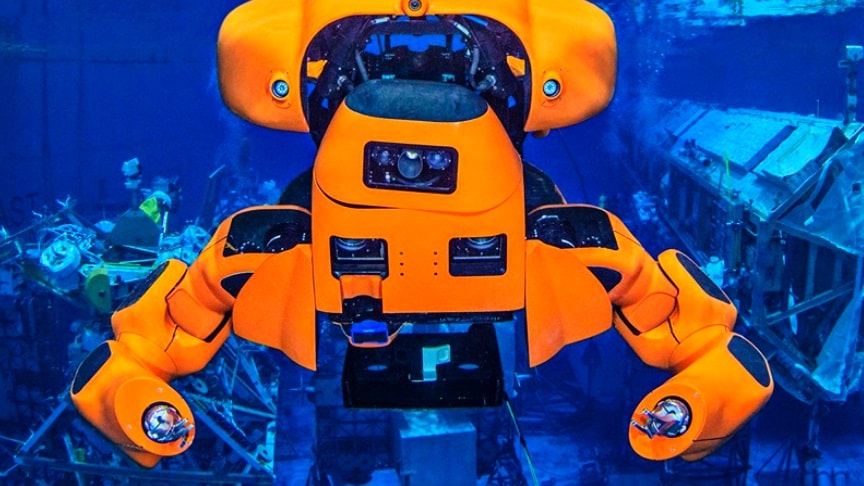 source/image: Houston Mechatronics, Inc
We threw in a few cool features to set Aquanaut apart from other AUVs, like vertical thrust control, and a articulating bow.The Aquanaut transforms by actuating 4 in-house designed and built high-reliability linear actuators.Watch the video from IEEE Spectrum for more info:
The hull separates in one fluid motion, exposing two additional control thrusters, the vehicle arms, and adding another degree of freedom to the vehicle head mechanism.The vehicle is capable of efficient long-distance transit and data collection in 'AUV' (autonomous underwater vehicle) mode.
Advertisement
After transforming into 'ROV' (remotely operated vehicle) mode the head of the vehicle pitches up, the hull separates, and two arms are activated so that Aquanaut may manipulate its environment.The operator maintains supervisory control over the vehicle whether onboard a support ship or from the comfort of our home office.The company is preparing Aquanaut for market usage with a plan to lower the cost of underwater research.