Toyan has been around since 2015, making incredibly small but fully functioning model engines that can be used to power model cars or just even to be toyed with and admired. In this video Wraped Perception runs the Run the Smallest V8 RC Engine in the World in at 28cc's and tries to hit the maximum rpm.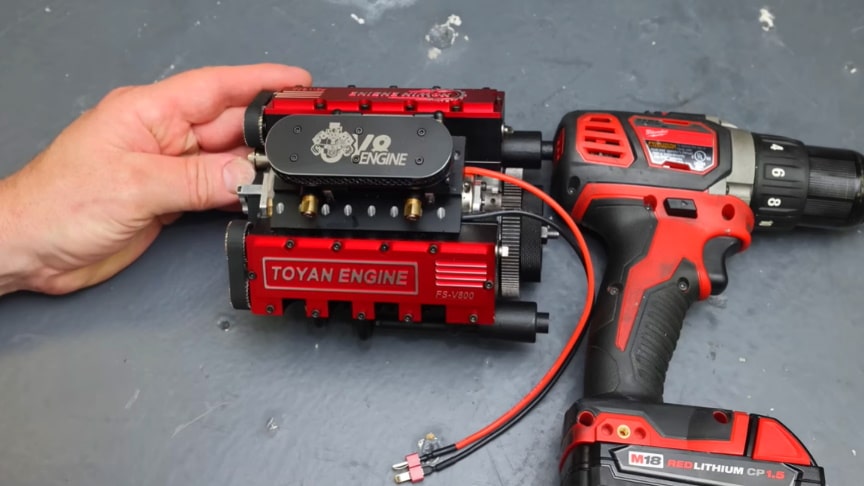 image: Warped Perception
I first set up the Mini V8 engine, then I open it up to show everybody what's inside, take a look at the bearings the valves the cam.I then run this engine at full throttle after that I make some exhaust modifications to try to get a better more realistic sound, then I film the engine in slow motion to show everyone how the valve train works with the cams rocker arms and lifter buckets.
About the engine: this is the new Miniature V8 Nitro Engine Toyan / Howan 28cc 2.7 Cubic inch V8 Engine sold by Engine DIY.Designed with red sports elements Highly authentic appearance1:10 scale realistic engine.Built with 90 degree cross crankshaft structure, the engine features smoother operation, increasingly sensitive acceleration response with the highest speed up to 12500 RPM.
Advertisement
The tiny Toyan V8 is one of the most impressive model engines I've ever seen. Not only is it able to rev like a supercar but its mechanical water pump is capable of maintaining low enough temperatures to run at max rpm for several minutes.