The ingeniously designed mini OHV inline four-cylinder diesel model, with premium quality & extremely textured metal parts, briefs you on the wonderful world of mechanical engineering in an immersive environment.The engine is able to connect the power and run driven by the motor for increased reality and interest.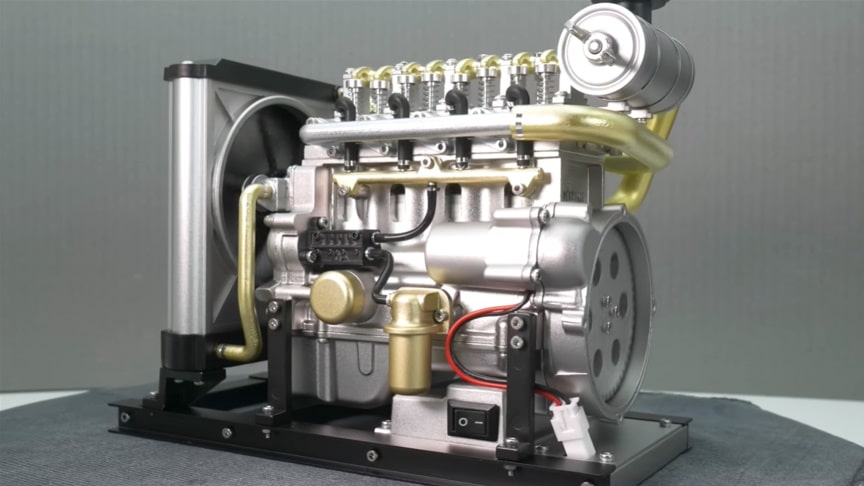 You can observe the engine running process throughout the process. The model not only makes an exquisite ornamental model, also available as a simulated dynamic model that simulates the operation of a real engine.The engine on this video is TECHING Workable Mini Diesel Engine Metal Model Kits DIY OHV 4-cylinder Engine.
The engine consists of 300+pcs parts and comes with a paper English instruction manual. You will personally experience the whole process of assembling from small parts to the finished product and build a shocking engine model.The wonderful toy allows adults to cooperate with children for assembly to spend their leisure time, which enhances parent-child interaction, walks children through popular industrial knowledge, increases their knowledge and imagination, develops mental and logical thinking as well as improves innovation and creativity.
Advertisement
This engine will make great industrial technology in the form of inheritance in the hands of every owner. Packed in a high-end gift box, the product makes a perfect gift for children or adults that is irresistible and satisfying.
.Material: Stainless Steel + Aluminum Alloy
.Brand: TECHING
.Model: DM115
.Coloring Process: Anodic Oxidation
.Scale: 1/10
.Number of Parts: 300+pcs
.Drive Mode: Motor Driver
.External Power: DC 5V (USB Cable)
.Battery: 450mAh Li Battery
.Charging Time: 2h
.Service Time: Over 60mins (At Full Power)
.Assembling Time: 4h