This Camper from Knaus is equipped with a large seating area in the middle, pull-out bed above the cab, toilet room with shower, big storage garage at the rear and much more.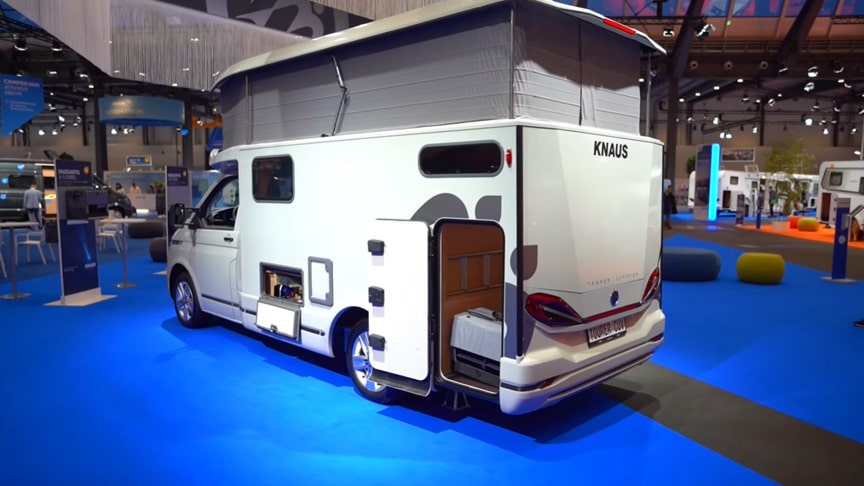 The motorhome is built on a VW Multivan T6 with automatic transmission, adaptive cruise control and 150 HP as standard. LED daytime running lights, emergency brake assist, heated seats, fog lights, etc.The camper is only 588 cm long and 220 cm wide.
In regular guise, it features everything you would expect to see in a motorhome or large panel van conversion – a toilet, shower and washbasin with a mirror above, a number of cubbies, and LED lighting.Double bed, Easy-close Closet, Large Skylight panoramic window.Partially integrated, Van, Automatic transmission, Power steering, Cruise control, Air conditioning in cabin, Android Auto, Apple Carplay, Adjustable steering wheel, Central lock on living area.
Advertisement
The motorhome travels and sleeps four, so is designed to appeal to families, and an all-new elevating roof concept provides extra space when camping.The 500 LT features a full washroom, although not collapsible, and a slide-out bed above the cab can also be ordered. Both layouts come fitted with a 90-litre compressor fridge, sink, two-burner hob powered by a 5kg gas cylinder, diesel heating and a boiler.