Mini camper van from Chausson! Great and fit city camper that is well equipped! The car is only 541 cm long and 205 cm wide: This therefore works as a passenger car and is easy to drive around, regardless of whether you have to park in narrow city streets or travel on narrow roads out in nature.With a solar panel, the car is well suited for trips far away from electricity access for those who like free camping.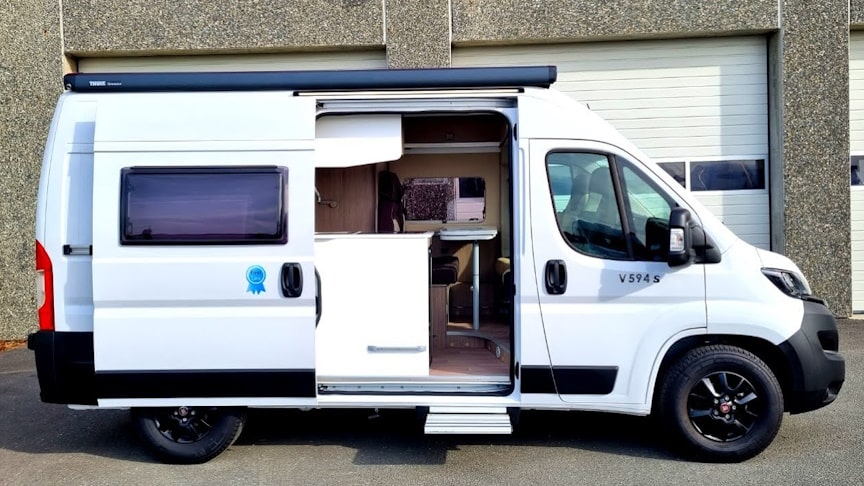 source.image: Bobilagenten AS
The new Fiat Ducato 8 has several improvements such as an upgraded dashboard, digital speedometer and on-board computer, a new stylish steering wheel with cruise control, smart storage solutions in the doors, a new key and now also with a USB-C connector in the driver's area. The car also naturally has the latest standard for exhaust gas emissions: Euro 6 with Adblue!Price starts at 54,990 Euro
Outside, you have 16″ aluminum rims, solar cells, awning, outside lights, reversing camera, electric step, possibility to attach tables outside and double doors with windows.You will find, among other things, an interior with beautiful colours, reversible chairs with armrests, extendable table, air conditioning, airbags on both sides at the front, cruise control, on-board computer and the new sprightly Turbodiesel engine with Euro 6 Adblue and 140hp, which provides everything for a comfortable trip!
Advertisement
Kitchen with hot/cold water, cooking burners, also notice the new compressor fridge with freezer box that can be opened from both sides, as well as lots of drawers and storage space. Bathroom with shower, toilet, sink, 230v outlet and storage. Note that there is a window in the bathroom.You also have reversible chairs with armrests that form a pleasant seating area! The table can be extended with a movement of the hand so that you get even more table space. There is also the option of attaching the table to the outside of the car.In the front you will find chairs with armrests, air conditioning, airbags on both sides. Cup holders, electric windows, electric mirrors and remote-controlled central locking with key./Bobilagenten AS