The clutch in a manual-shift motorcycle transmission is typically an arrangement of plates stacked in alternating fashion, one geared on the inside to the engine and the next geared on the outside to the transmission input shaft.Whether wet (rotating in engine oil) or dry, the plates are squeezed together by springs, causing friction build up between the plates until they rotate as a single unit, driving the transmission directly.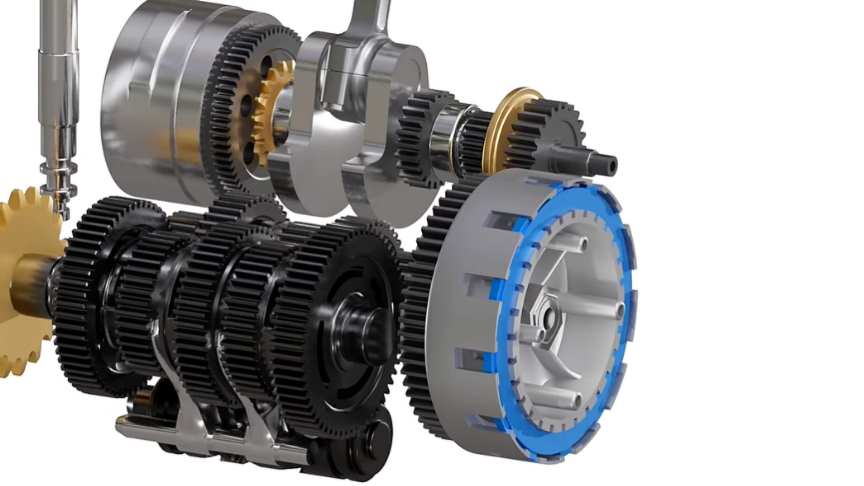 source/image(PrtSc): TecknoMechanics
A lever on the handlebar exploits mechanical advantage through a cable or hydraulic arrangement to release the clutch spring(s), allowing the engine to freewheel with respect to the transmission.Automatic and semi-automatic transmissions typically use a centrifugal clutch which operates in a different fashion.
This video explains the working of a Motorcycle Clutch with relevant animations. Motorcycle clutch is a component which enables the engine power to engage or disengage with the gearbox in gradual and safe manner.At idle, the engine is disconnected from the gearbox input shaft, allowing both it and the bike to freewheel (unlike torque converter automatics, there is no "idle creep" with a properly adjusted centrifugal clutch).
Advertisement
As the throttle is opened and engine speed rises, counterweights attached to movable inner friction surfaces (connected to the engine shaft) within the clutch assembly are thrown gradually further outwards, until they start to make contact with the inside of the outer housing (connected to the gearbox shaft) and transmit an increasing amount of engine power./wikipedia