The Aero Spacelines Super Guppy is a large, wide-bodied cargo aircraft that is used for hauling outsize cargo components. It was the successor to the Pregnant Guppy, the first of the Guppy aircraft produced by Aero Spacelines, which in turn was named for its resemblance to a pregnant guppy. Five were built in two variants, both of which were colloquially referred to as the "Super Guppy".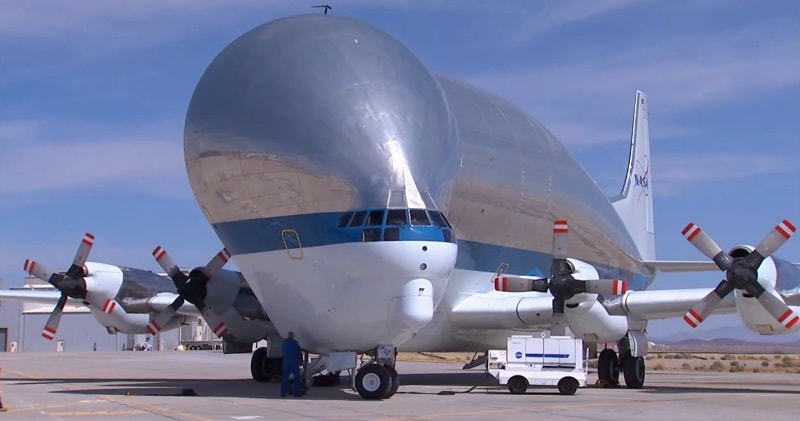 source/image: Daily Aviation Archive
It is the ugliest, yet most useful plane in NASA's fleet.Though it looks more like a massive fish than an aircraft, the Guppy is used to ship immensely large parts all across the world.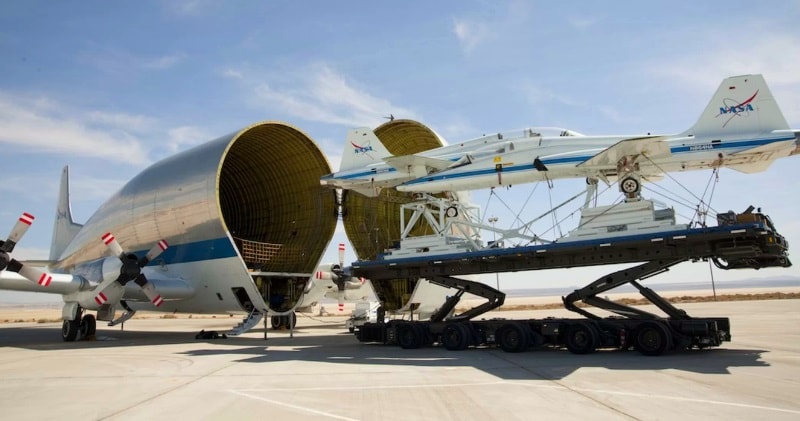 source/image: Daily Aviation Archive
The Guppy's extra-wide cargo bay allows it to transport military jet aircraft with wingspans of 7.6-meters. The following video shows NASA loading two T-38A Talon jets into the cargo bay of the Guppy.
Advertisement
The maximum payload for the Super Guppy is 52,500 pounds, with a maximum range at maximum payload at 564 miles. The Cruise Speed at 25,000 feet is 290 miles per hour. The maximum range with a payload of 16,000 pounds is 2,000 miles.In addition to the fuselage modifications, the Super Guppy used Pratt & Whitney T-34-P-7 turboprop engines for increased power and range, and modified wing and tail surfaces.
The Super Guppy's cargo compartment has a usable volume of 39,000 cubic feet. Although it now operates as a Public Aircraft, the Super Guppy is a FAA certified design. This design has millions of miles of service, providing fast, economical transport for outsize cargo.