This is Aston Martin's brand new V12 Speedster! A stunning open 2-seat hypercar limited to just 88 units at a cost of £765,000 each from the team at Aston Martin Q. The V12 Speedster squeezes the 5.2l Twin Turbo V12 from the DBS into a Vantage chassis, and will create a special driving experience as a result. What do you think?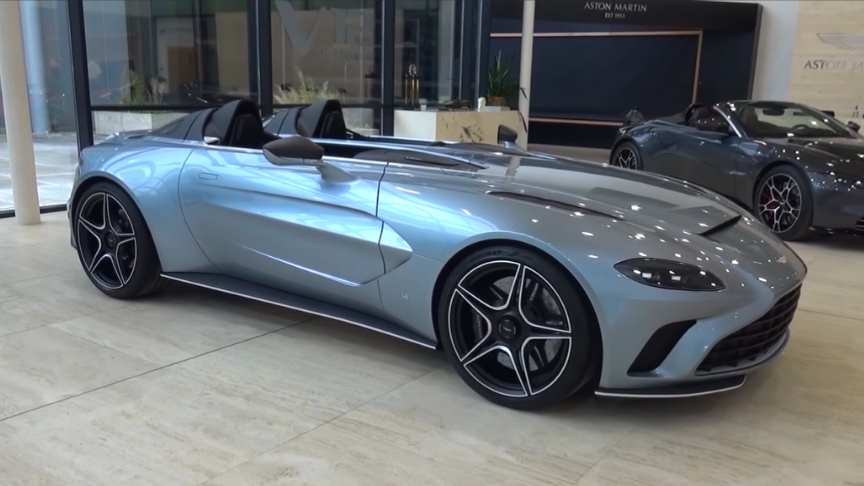 source/image: Shmee150
Visiting the home of Aston Martin in Gaydon, UK, it's almost a mini-motorshow with the new cars on display including the DBX from Q, new Vantage Roadster and the Valhalla sporting a new appearance in orange. The highlight to me though is of course the new V12 Speedster, a beautiful and incredibly limited model inspired by the F/A 18 Hornet fighter jet.
Based on the chassis and platform of the new Vantage, the V12 Speedster also squeezes in the V12 making 700hp and 753nm which with the 8spd ZF auto makes for a 3.5s sprint to 100km/h (62mph) and a top speed of 300km/h (186mph).
Advertisement
Visually it's striking, with additional openings for cooling at the front of an elongated bonnet and lack of windscreen. The seats are cocooned inside the cabin which itself is loaded with fighter jet inspirations. Behind the cabin sits the rear buttresses that house the carbon fibre helmets above a carbon fibre lined storage area./via/read more: Shmee150