Nissan is gearing up for an extravagant showcase at the 2023 Japan Mobility Show in Tokyo, and they're bringing along a fleet of jaw-dropping concepts. Among these avant-garde creations, one that stands out is a compact crossover that defies convention. With its audacious design, featuring massive 23-inch wheels and a profusion of sharp angles, it appears as though it's been meticulously folded, much like an origami masterpiece.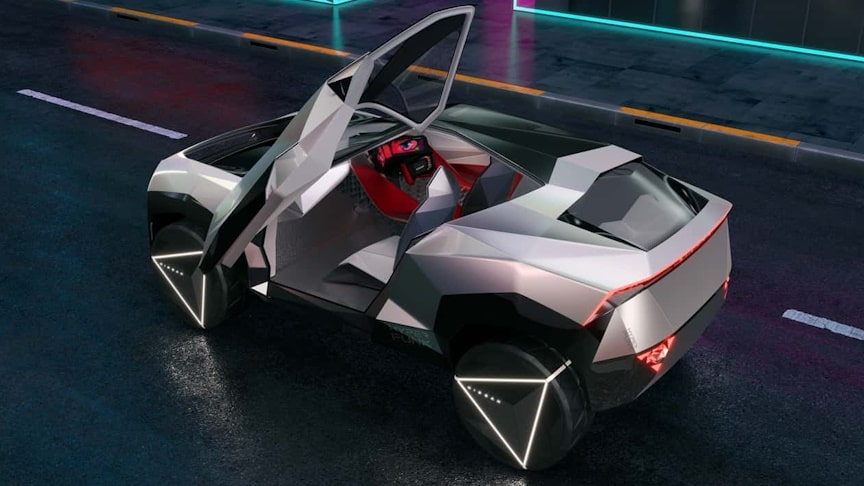 source.image: DPCcars
The vehicle seamlessly integrates its headlights and taillights into its sleek, angular body, further accentuating its cutting-edge aesthetic.Stepping inside, you'll find an interior that's nothing short of futuristic. Traditional buttons and knobs have been banished, replaced by a cluster of touch-sensitive controls on the edgy, origami-inspired steering wheel.
Nissan dubs the driver's space a "mobile creative studio," emphasizing its dedication to catering to the needs of influencers and content creators.Nissan hasn't held back on the technological front either. Equipped with onboard cameras that capture the world around it, this vehicle transforms these visuals into captivating digital landscapes using advanced artificial intelligence.
Advertisement
The result is displayed on a trio of screens adorning the dashboard, with a prominent vertical screen in the center flanked by two horizontal ones. But this AI goes beyond creating eye-catching visuals; it collaborates with specialized sensors in the headrests to discern the driver's mood, adjusting the lighting and music to suit the ambiance accordingly.