Dubbed the "370Zki" – pronounced "370-Ski" – the 332-horsepower 370Z Roadster is ready to tackle ski slopes and backwoods trails alike with its front skis and rear snow tracks replacing the iconic sports car's usual high performance tires.When you're driving, it obviously feels like a roadster. "It's got the power, it's got the turning radius. You really forget you're on snow tracks.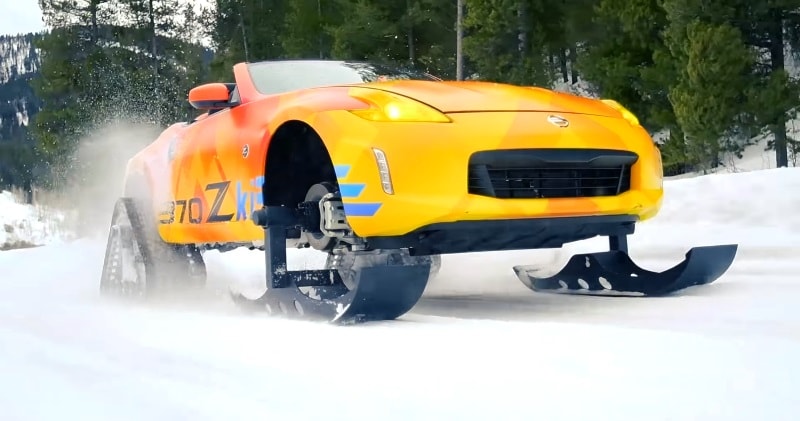 image/text credit: Nissan USA
With 332 horsepower firing off the 3.7-liter V-6, power loss from the tracks' extra unsprung weight isn't much of an issue.The V6 works in conjunction with a seven-speed automatic gearbox, but customers can spec the stock 370Z with a six-speed manual as well.
Nissan had to remove the car's drivetrain, install a 3-inch lift kit, widen the wheel wells, and move the exhaust and brake lines. A protective front skid plate was also added to protect the custom-mounted engine from damage on the slopes.
Advertisement
The rear wheel wells were "modified" to allow the independent axles to retain their travel, because of comfortability.Their 15″ wide rear tracks are coupled to giant skis on the front hubs.Don't expect to see the Nissan 370Zki Roadster in dealerships, because the automaker has built it for show purposes only.