A family vehicle with great off-road capability.The EX 420 is built upon the all-terrain Iveco Daily 4×4 and, thanks to the very spacious interior, is ideal for families in search of adventure travel around the globe.The layout of the cabin includes a comfortable dinette at the front, two bunk beds in the rear, large alcove, well-configured kitchen, bathroom with separate shower, and copious storage between the double flooring.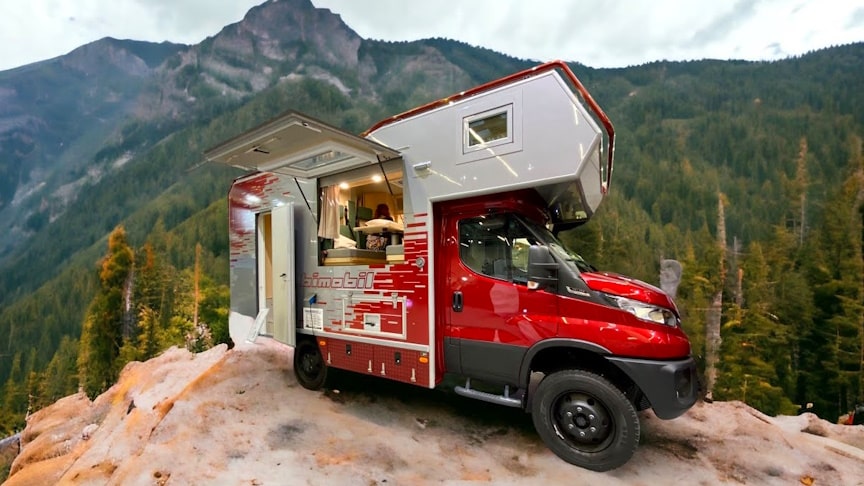 source.image: Campers in Virtual Reality
Voluminous water tanks, large domestic battery, and a reliable modern on-board technology are a recipe for autonomous travel.On the road, up to six passengers will find a seat in the cockpit and front seating area. A special highlight is the optional panorama window next to the dinette which opens up for a spectacular view.
In keeping with bimobil's standards, the EX 420 features the highest level of cabin construction: extremely robust and durable, excellent insulation, and the use of premium materials.The bright and friendly interior design and the cheerful bimobil fabrics and leathers lend the EX 420 its special charm.
Advertisement
Whereas the new daily with its 16 forward gears, two reverse, and three differential locks has remarkable Offroad features and can easily overcome most obstacles, the solid body combined with a comfortable interior makes it feel more like an on-road vehicle, not least thanks to the 8-speed Hi-Matic gearbox. It is equipped with a powerful modern Diesel engine with 132kW (180 BHP) and 430 Nm of torque.