Henderson was a manufacturer of 4-cylinder motorcycles from 1912 until 1931. They were the largest and fastest motorcycles of their time,and appealed to both sport riders and police departments. On April 29, 1930, the new Henderson "Special" KL solo was demonstrated on a new, smooth concrete Illinois highway. Joe Petrali achieved 116.12 mph and 109.09 mph on two recorded runs, averaging 112.61.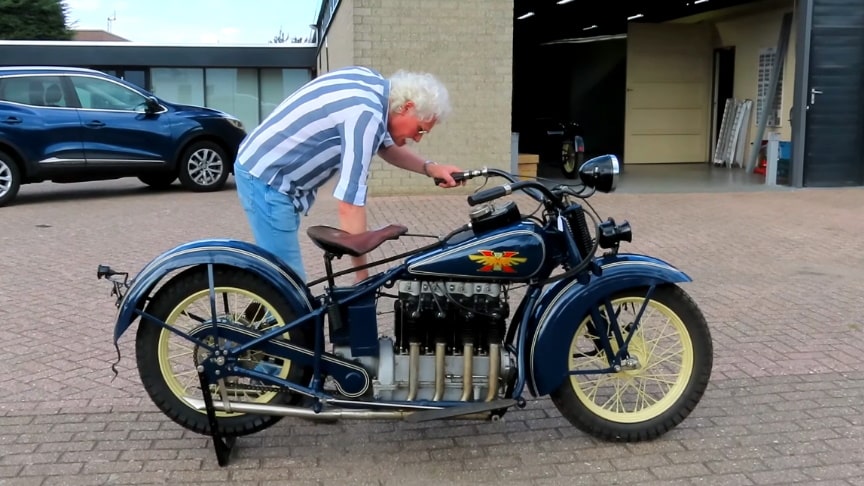 source/image(PrtSc): yesterdaysnl
The higher compression two-ring pistons, and an enlarged 1.25 inch carburetor, meant the KL engine produced 45 hp at 4,500 rpm. The KL was remarkably flexible in top gear, pulling smoothly from 8 to 110 mph. They were even more popular with police departments in the United States.
The "Special" (KL) model was priced $30 more than the regular KJ model, and was available in 1930 and 1931.The cast-aluminium tank halves took away the view of the frame top tube and had the looks of a saddle tank.
Advertisement
On top of the tank a graceful instrument cluster was placed, consisting of oil pressure and amp gauges, speedometer and light switch.Producing 40bhp at 4,000rpm the Streamline Henderson proved exceptionally smooth and tractable, being capable of accelerating from 10mph to over 100mph in top gear.