The first Royal Enfield motorcycle was built in 1901. The Enfield Cycle Company is responsible for the design and original production of the Royal Enfield Bullet, the longest-lived motorcycle design in history.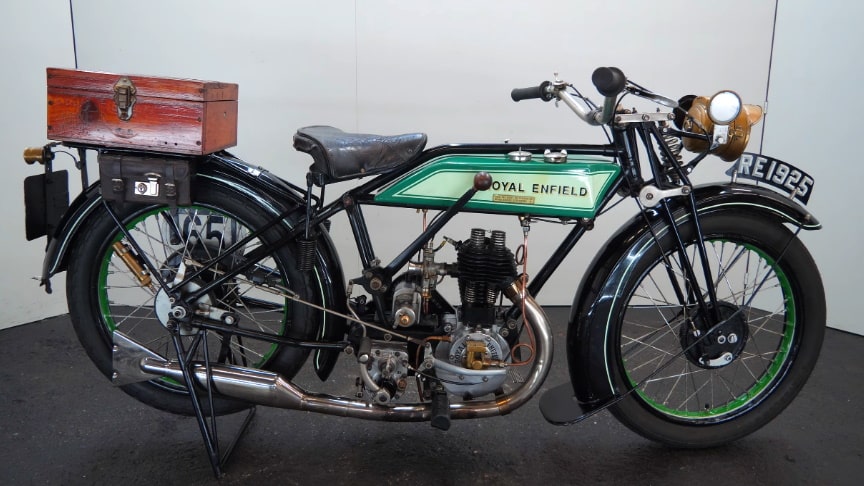 image: classic-motorcycle.com
In 1921, Enfield developed a new 976 cc twin, and in 1924 launched the first Enfield four-stroke 350 cc single using a Prestwich Industries engine. In 1928, Royal Enfield began using the bulbous 'saddle' tanks and centre-spring girder front forks, one of the first companies to do so.
Even though it was trading at a loss in the depression years of the 1930s, the company was able to rely on reserves to keep going. In 1931, Albert Eadie, one of the founders of the company, died and his partner R.W. Smith died soon afterwards in 1933.
Advertisement
This Royal Enfield is a wonderful example of flat tank generation. It is equipped with a Powell & Hanmer acetylene lighting set, grease gun, wooden toolbox, Amal carburetor and a three-speed Sturmey Archer gearbox. It has a lot of lovely details and is a great runner.
Spec:
Manufacturer: Royal Enfield
Model: 2¾hp Standard
Year: 1925
Displacement: 350 cc
Cylinder: 1 – JAP
Engine type: 4-stroke / sv