The name is Manta – Opel Manta. A car as timeless as Her Majesty's most famous secret agent. Launched over 50 years ago with a four-cylinder petrol engine, today the Manta is once again in top form, as the first electric MOD in the history of the German brand. The new Opel Manta GSe ElektroMOD combines the best of both worlds: the classic appearance of a style icon together with state-of-the-art technology for sustainable motoring – far removed from a classic car rally.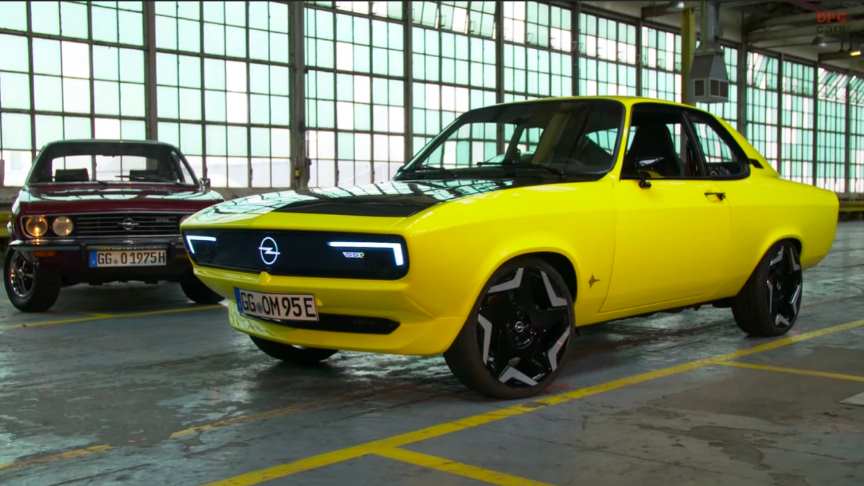 Because the new Manta is future-proof: electric, emissions-free and full of emotions.The Opel Manta GSe ElektroMOD reflects the fascination of a growing fan community that transforms classic cars like the Manta into so-called RestoMods with modern technologies and new design.The purely battery-electric Manta is as sporty as a genuine Opel GSe and proudly displays its ambitions in its name – ElektroMOD. MOD stands for change, for technical and stylistic MODifications as well as a MODern sustainable lifestyle.
That is why the four-cylinder engine under the Opel-iconic black bonnet makes way for an electric motor with 108 kW/147 hp. The "e" in GSe now stands for electrification. This makes the new GSe the most powerful Manta A ever built by Opel ex-works. In 1974 and 1975, the Manta GT/E was the first generation's powerhouse model with 77 kW/105 hp. The 2021 electric Manta delivers maximum torque of 255 Nm from a standstill.
Advertisement
The lithium-ion battery has a capacity of 31 kWh, allowing an average range of around 200 kilometres1. As with the production Opel Corsa-e and Opel Mokka-e, the Manta GSe can also recover braking energy and store it in the battery. Regular charging takes place via a 9.0 kW on-board charger for single-phase and three-phase AC charging. This means it takes just under four hours to fully charge the Manta battery.//int-media.opel