This RV has the muscle of a semi-truck and the look of a luxury cabin. Doug Tolbert shows off his Powerhouse Coach designed to bring all his toys wherever he goes. Custom made to every buyer's dreams, this RV has all the amenities of a world class hotel with enough torque to haul your other pleasure vehicles just about anywhere. You can even get a matching trailer with a self propulsion system to attach it to the RV!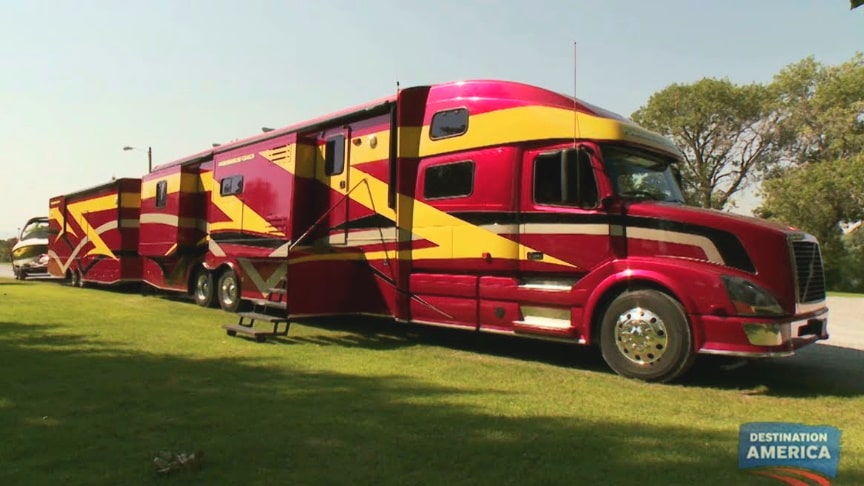 source/image(PrtSc): Destination America
The Powerhouse mega RV is the brainchild of Doug Tolbert from Idaho Falls, Idaho. He started building Powerhouse RVs in the late 1990s when he couldn't find a rig that met his criteria. Powerhouse begins with a Volvo chassis, then moves to constructing a second chassis for the coach body, which will be built to house tanks and wiring.
Capable of enduring almost any weather condition (partially due to its 2000 lbs of torque and up to 650 hp capabilities and its auto shift transmission), the Powerhouse is available to drive by everyoneThis amazing RV is equipped with a TV system, a DVD, wireless network and has more than 400 square feet!
Advertisement
In fact, 8 people can eat, sleep and live here comfortably. It really is – a home on wheels! Doug Tolbert really invested much in his home on wheels and we can definitely say that he has succeeded! Check out the footage and see what a real RV should look like! We are leaving you in the hands of Doug Tolbert! Doug created something that we think the whole world should see.//Destination America