IBIS Power presents PowerNEST, a full roof-integrated Wind and Solar energy system for medium to high rise buildings, that combines wind turbines and solar panels in an aerodynamically enhanced modular steel structure, that fits roofs of any size and produces 6 times more energy than the conventional solar roofs.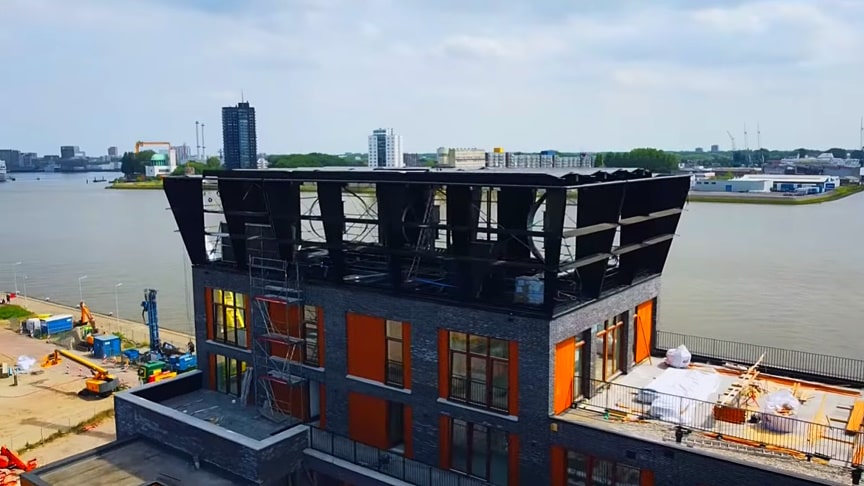 source/image(PrtSc): IBIS Power
In this film, you can watch our last installation in Rotterdam and learn more about what it is, how it works and the value it adds to urban environments, by helping cities reaching their sustainability goals, complying with current building regulations, and is integrated into the architecture of new or pre-existing buildings as an attractive solution.
PowerNEST uses smart wind & solar design to capture 6 – 10x more electricity than rooftop solar panels alone. Perimeter fins grab building facade upflow and channel it over a vertical wind turbine. The entire PowerNEST structure funnels airflow using the Venturi Effect to dramatically increase wind speed over the turbine.
Advertisement
A bi-facial solar canopy captures more sunlight, at more angles, than a normal solar installation. The entire system can be adapted to optimize energy capture in your local weather conditions. That's how PowerNEST silently generates enough electricity to fully power a 15-story residential building.The modular solution includes a row of 3 kW wind turbines topped with bifacial panels that capture light reflections inside its white cladding. Each module measures 7.2 meters by 7.2 meters, with a height of 4.8 meters.//source