The PZL-230F Skorpion was a prototype jet aircraft which very nearly saw production. The project was started in the late 1980s by PZL. PZL was the Polish State Aviation Works and was controlled by the Polish communist government of the time.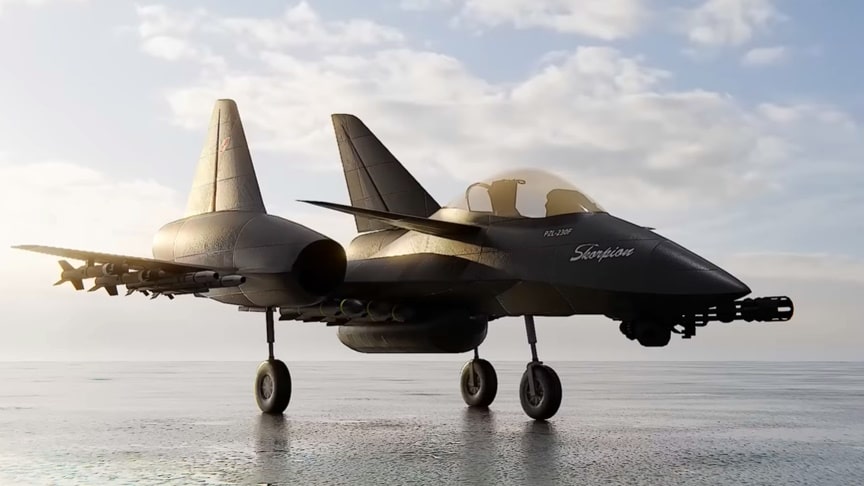 source/image: Found And Explained
The PZL-230F Skorpion was a compact aircraft – just 10 m long. It had a single pilot, twin jet engines,it was an advanced aircraft which was to use lightweight composite materials and fly-by-wire electronics. Yet at the same time the Skorpion was designed to be affordable, easy to build, well armoured for good survivability, and easy to adapt to a variety of roles.
It was also designed to be able to take-off and land on comparably short runways.It also required an ability to take-off and land on a runway of about 250 m in length, travel at speeds of up to 640 km/h, be armed with a 25 mm cannon and be able to carry up to 2,000 kg of both Warsaw Pact and NATO munitions.
Advertisement
Early on, the Pratt & Whitney Canada PT6A-67A turboprop engine was selected to power the type; these were to be mounted in a pusher configuration on either side of the rear fuselage.As of its 1994 redesign, performance estimates for the Skorpion included a maximum level speed of 540 kt (1,000 km/h), a 9,970 m (32,800 ft) service ceiling and a 300 km (160 nm) combat radius.In June 1994, the Polish Ministry of Defense announced that the Skorpion programme would receive no further funding from the government.