Randy Grubb was ranked among the top 15 U.S. fabricators by Hot Rod Magazine. Among his builds are Jay Leno's Tank Car, the Indy Special, the B-702, Piss'd Off Pete, the DecoLiner, the DecoPods, and the body for the Bob Maddox Pulse Jet Lakester.via: Randy Johnson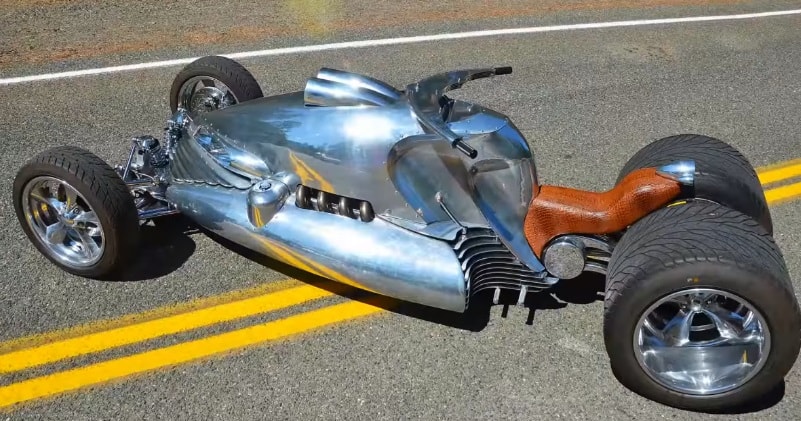 source/image(PrtSc): Randy Johnson
Then Randy got a call from his English pal, Tim "The Frogman" Cotterill, famous for his bronze sculptures of frogs and birds. The Frog had designed a powerful, ultra-sleek machine with animal-like qualities that he called the Rocket 3.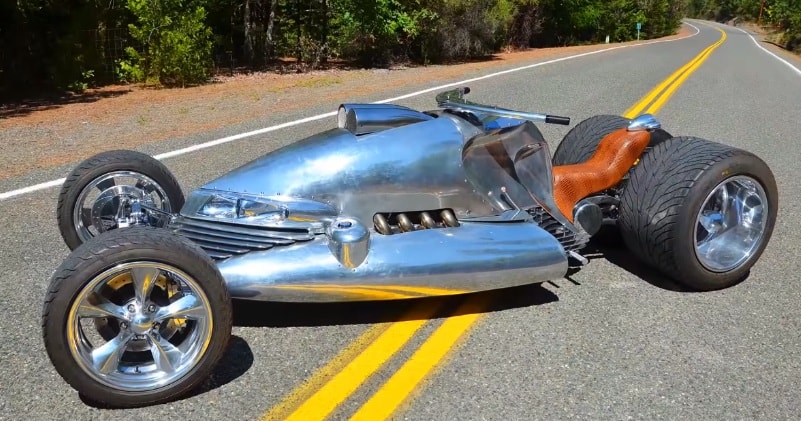 source/image(PrtSc): Randy Johnson
"It combines my love of choppers, trikes, hot rods, and dragsters," Frog said, and then he asked Randy to team up with him to build it.
Earlier, the Frogman had built the Rocket 1, a trike he made famous in England. Next, after he moved to Venice, California, Frog built the muscular 1,000 horsepower blown Hemi Rocket 2. This monster does 0-100 in less than 5 seconds with a top end of 200!
Advertisement
From mind to metal, now you can witness Randy's complete build of Cotterill's Rocket 3. Its rear suspension is beautiful, cool, and crazy; it flexes just like a big cat on the run. And with its 430 horsepower Corvette engine, the Rocket 3 will scram, doing 0-60 in less than 4 seconds.via: Randy Johnson
SPECS:
120″ wheelbase
Chevy E-Rod LS3: 6.2 liters, 430 horsepower
Hydra-Matic 4165-E 4-speed automatic
Front End: Kugel Indy-style pushrods, IFS 13″ rotors
Rear End: Kugel Diff 9″, LSD 3.50 ratio, 13″ rotors, 22″ flange-to-flange
Boyd wheels with 20" x 20" rear rims, Mickey Thompson tires
Designed by Tim Cotterill, Built by Randy Grubb