The Eurocopter EC120B is a comfortable machine for both executive transport and training with seats for two in front with Eurocopter's VEMD cockpit and three passengers behind. The EC120B is a single-engine multimission helicopter, designed for safe, simple, and cost-effective operations.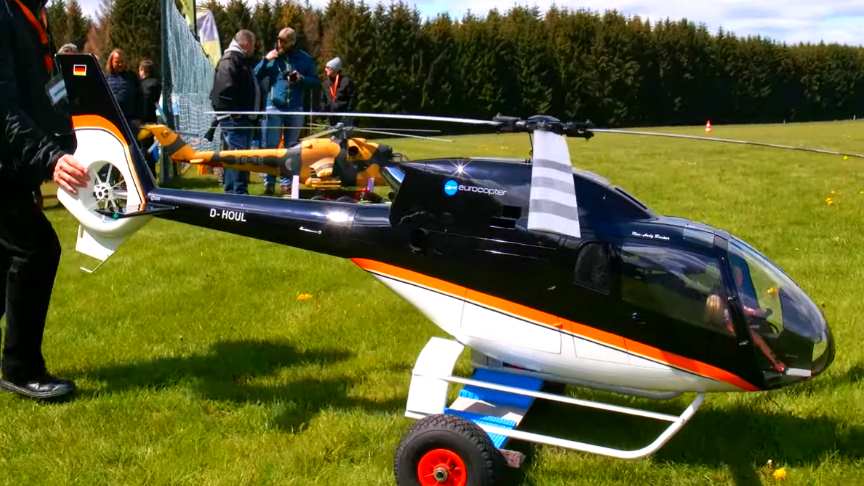 source/image(PrtSc): RC MEDIA WORLD
This giant RC Eurocopter EC-120 has a rotor diameter app.2.50m and it is powered by a Jakadofsky Pro 5000 jet turbine engine, the Take-off weight of the helicopter is app. 20 Kg. The pilot of this helicopter in this video is Andy Fischer. at the Pöting Turbine Meeting in Elkenroth Germany May 2019 event.
The pre-welded landing skids and luggage door are exactly the same as the full size version.The helicopter is equipped with a self-stable contra rotating twin-rotor system which ensures disconcerting ease of piloting.
Advertisement
The turbine version fascinates by the smell of kerosene, a gently starting rotor, accompanied by the unmistakable sound of a turbine.This rc helicopter can be easily spotted in flight even in strong light thanks to its black color.
Model: Eurocopter EC-120
Engine: Jakadofski Pro 5000
Rotor diameter: app. 2.50 m
Take-off weight: app. 20 Kg
Pilot: Andy Fischer
Event: 18. Pöting Turbine Meeting in Elkenroth Germany May 2019