Boss Aluminium converts the Toyota Land Cruiser 79 and 200 into 6×6 drive.6×6 vehicles are king of the off-road. Six-wheel-drives are utilised by militaries around the world, including the Australian Defence Force. They offer unmatched off-road capability, payload capacity and towing capability.70 series and 200 series LandCruisers start out as capable four-wheel-drives when they roll off the dealer showroom, but combined with a 6×6 conversion, Boss Aluminium takes them to a whole new level.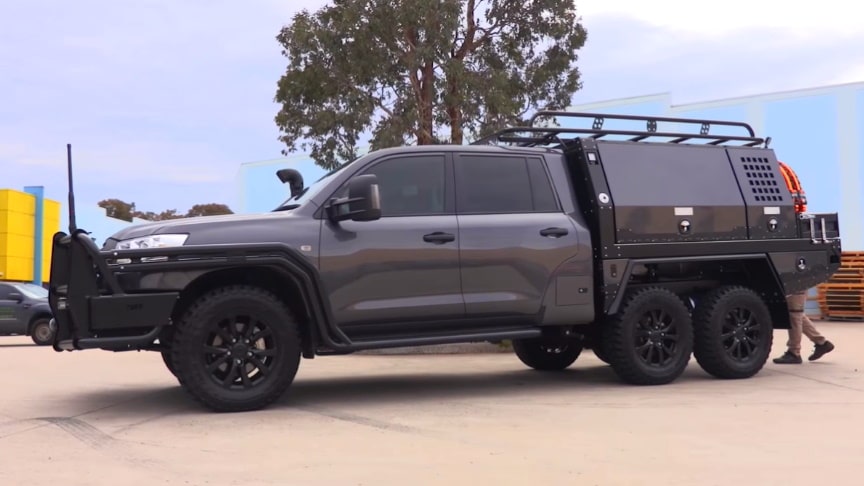 source/image: Boss Aluminium
The system replaces the rear half of the chassis, integrating features such as heavy duty cable protection, integrated tow bar and rear winch cradle.
Keeping all four rear wheels on the ground is very important and crucial to maintaining traction. Pete is currently testing a set of Boss Aluminium shocks suited to the 200 and his requirements. So far, they have kept the rear wheels firmly planted on terra firma and allow the 275/70 R18 Mickey Thompson ATZ P3s to exercise their excellent grip.
Advertisement
The rear axle housings are the heavy-duty units build by JMACX, with track correction (for the 70 series) and chrome molly axle splines. A pass-through in the second axle drives the third axle. This setup connects the second and third axle via a centrifugal clutch, which locks when the second axle loses traction. The second axle does have a Ford 9-inch differential. The third axle does have a stock Toyota unit.