In 1929 Graham Walker won the Ulster Grand Prix averaging over 80 mph. This prompted the release of the Rudge Ulster, as well as a JAP engined 250 cc and parallel 4 valve 350 cc. Rudge bikes finished first, second and third at the 1930 Junior TT using prototype radial 350 cc 4 valve engines. They also took first and second in the Senior TT. The road bike engines were changed to dry sump lubrication. The JAP 250 and the parallel four valve 350 cc ended production in this year.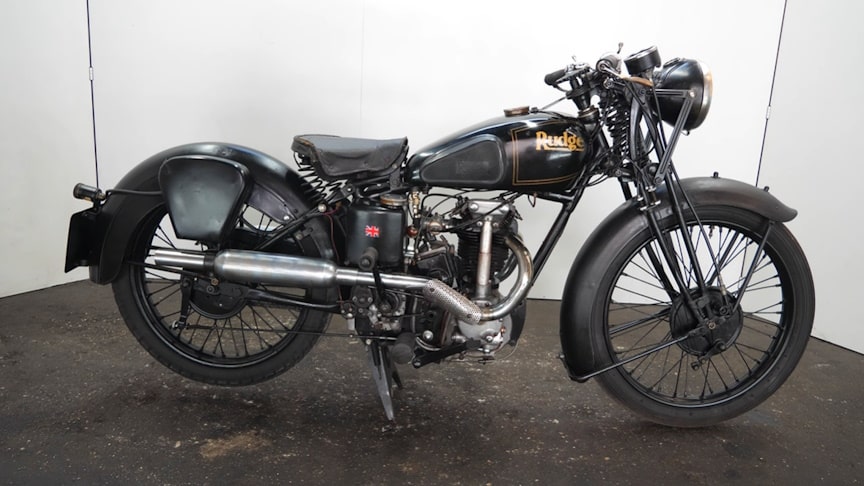 source.image: classic-motorcycle.com
In 1931 Rudge released its first 250 cc and 350 cc road machines with the radial valve layout.The parallel valve 500 cc was also available in Special and Ulster models, the Ulster now having a 100 mph guarantee. First and second were taken in the 1931 Lightweight TT, and in 1932, second and third.
A radial head 500 cc was produced for 1932 only. A 250 cc TT Replica was built, and the road bikes were fitted with proper oil bath primary chain covers. For 1934 the Ulster had it's head cast in aluminium bronze, and a radial 4 valve 250 cc Sports was released. Rudge motorcycles took the first three places in the 1934 Lightweight TT.
Advertisement
A two valve 250 cc was produced in 1935, and in 1936 the last of the radial 4 valve 250 cc model were produced, while round tube forks were introduced on other models. In 1937 the valve gear became fully enclosed on the 500 cc models, but finances were bad and Rudge was bought by EMI, and production was interrupted, being moved to Hayes, Hillingdon in Middlesex.This bike is a fine runner and is equipped with a Smiths speedo, Lucas lighting set and dynamo, Amal carburetor and a high pipe exhaust.