The pods are currently manufactured in Panama and will be located there for the first year. Eventually, the pods will be shipped elsewhere. Available to order from September, the floating homes start at roughly $295,000 and can go up to $1.5 million based on upgrades and customization.
source.image: Global Update
Ocean Builders claims it will have the first 100 custom pods either in production or delivered by the end of 2023. It also says the second rollout of 1,000 pods will begin in 2024.For what makes the Seapod special isn't just its unique, sci-fi-esque exterior and, well, the fact that it's three storeys of floating concrete, steel and fibreglass.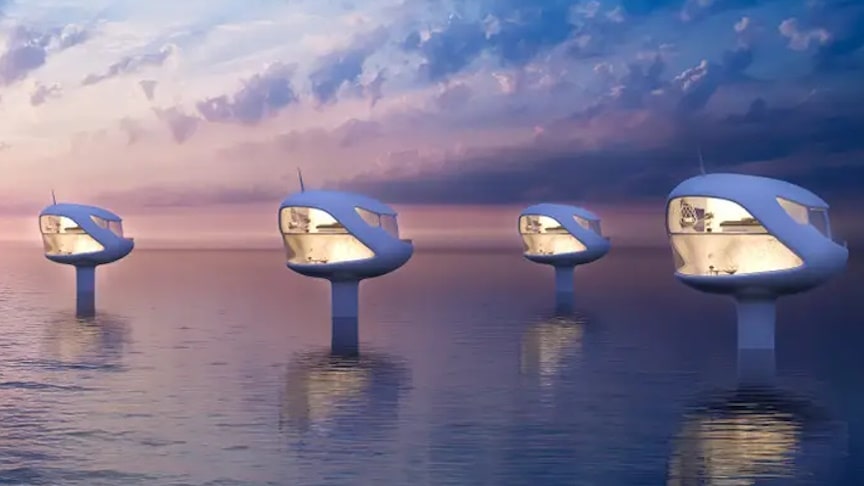 source.image: Global Update
It is the house's buoyant air-filled steel tubes hidden beneath the waves suspending the main living space of the floating home three-metres above the crashing waves.Daily essentials such as groceries and medicine are flown in by drones that have been designed to easily withstand open ocean conditions. Self-driving boats remove rubbish, compost and recycling.
Advertisement
With over 575 square-feet of panoramic windows and 360-degree unobstructed ocean views, the SeaPods offer over 830 square-feet of living space generously proportioned over 2.5 floors and include a master bedroom, living room, kitchen, bathroom, and patio all situated 7.5 feet above the waves.
The Seapods also offer 1,250 square-feet of storage space.The floating homes are specifically designed to be remotely upgradable (though obviously, physical changes would require a visit). This means that new modules can be added and removed depending on what you'd like.