Early influences on a young truck enthusiast have over time manifested into the passion and desire to build this 5/8th scale mini-Kenworth. The first step was to purchase a donor Chevy pick-up truck, one that drove well and had all its paperwork ready for compliance. Designing the layout of the cab required some accurate measurements to ensure that the driving position and control placement was comfortable and correct.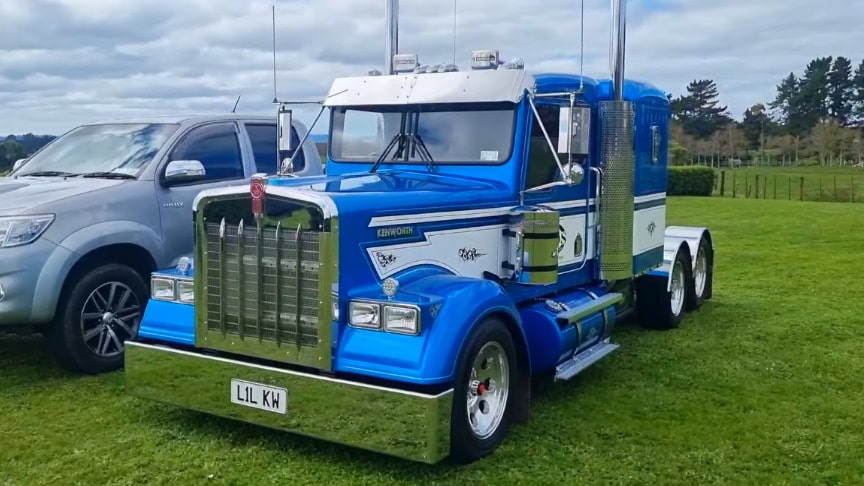 source/image: EDS truck shop nz
The next challenge was to handcraft a bonnet, one that paid homage to the W900L as well as the T900 – the two Kenworth models for which Flea has a passion. The bonnet started as a plywood mock-up to give the basic shape; the application of 12 large tins of bog, hours and hours of sanding and a coat of 2K paint achieved the required plug ready for fibreglass.
Next, the pedal box assembly needed to be fitted and the right-hand drive conversion completed with all- new factory parts.The original factory-fitted 350 Chevy V8 gave way to a fully rebuilt and mildly warm big-block 454. This was then coupled to a rebuilt 4L80E transmission.
Advertisement
The transmission is fitted with a CompuShift standalone controller, giving many programmable features.Flea has cleverly made the little KW look like a 15-speed RoadRanger is fitted. However, the manual-looking gear lever is, in fact, the shift lever for the auto transmission – a very cool touch.via/read more: nztrucking