Because the most beautiful destinations are often the hardest to access.The Iveco Daily 4×4 camper provides a ready to go, Expedition specific vehicle platform – with super single wheels and tyres, high and low range transfer case and front, centre and rear diff locks from the factory. Its off-road capability is extraordinary!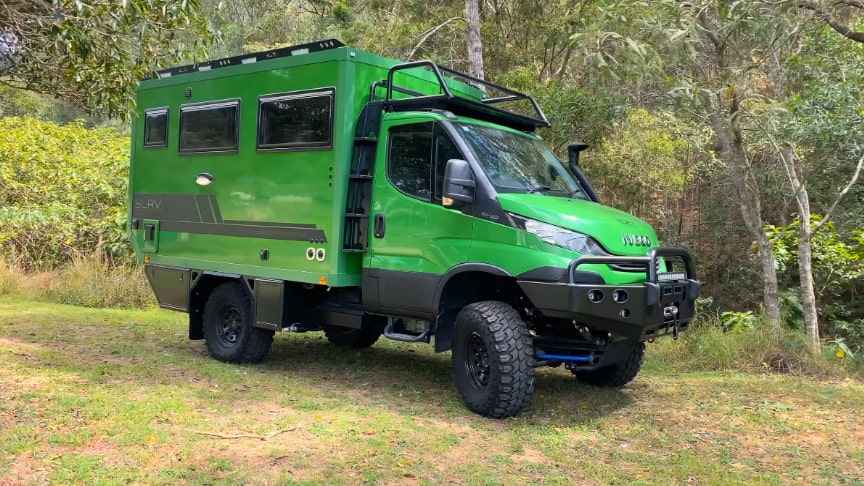 source/image: SLRV Expedition
SLRV vehicles can be fitted with an almost endless range of features and appliances, including:Electric bed, induction cooktop, convection/microwave oven, washer/dryer, dishwasher, fridge/freezer, additional drawer freezer, gas/electric BBQ, water & room heater, entertainment systems, satellite tv, mobile internet, & much more!
The electric lift up bed configuration optimises available internal space by incorporating both the bed and large club lounge into one area. Conveniently located out of the way – towards the roof, the bed can be lowered to its sleeping position at the press of a button. The extra large lounge and dining area can accommodate for the additional 'Crew' or just create a relaxing lounging experience for two.
Advertisement
The Iveco Daily is highly spec'd off-road truck straight from the factory floor. With front, centre and rear diff locks, super single wheels and parabolic suspension,powered by the Euro VI 3.0 litre engine generating 180 hp and 430 Nm torque you can reach any destination needed for the task in hand. Euro 6 Heavy Duty Homologation compliant, the Daily 4×4 is more than just a truck for remote areas.//SLRV Expedition