Starting a 1913 Harley Davidson motorcycle at the International Vintage Motorcycle Swap Meet and Bike Show, Eustis, Florida. This one is unrestored in original condition with original parts and original paint – and it still runs! My once in a lifetime opportunity to actually see one running – a motorcycle that is 101 years old.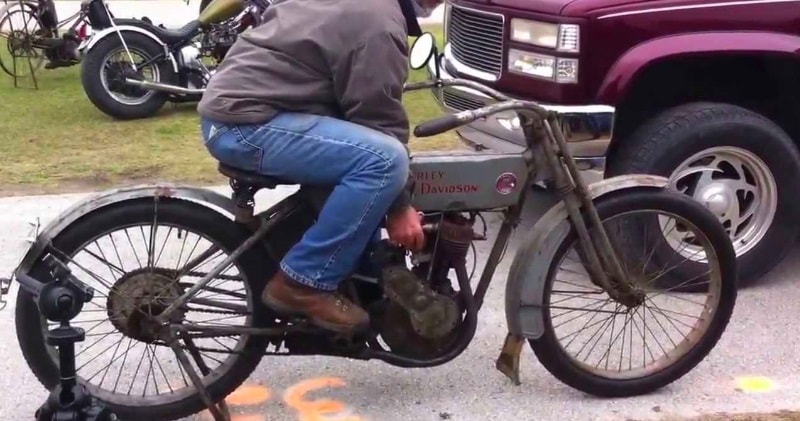 source/image: Ram SN
This is a 1913 Harley Davidson Model 9B Single, Rare early single-cylinder model.The bike runs well and is used in local events on a regular basis.Boyhood friends William S Harley and Arthur Davidson began experimenting with powered transport in the early 1900s, producing their first complete production motorcycle around 1903.
Little more than a motorised bicycle, the first prototype Harley-Davidson had proved fragile, prompting a major redesign and the establishment of a reputation for ruggedness that endures to this day.
Advertisement
Like many of their contemporaries, Harley-Davidson laid out their engine along De Dion lines. A single-cylinder four-stroke displacing 24.74ci (405cc), the latter remained in production essentially unchanged until superseded by a 30.16ci (494cc) version in 1909.