STEYR agricultural brand of CNH Industrial N.V. in partnership with sister powertrain brand FPT Industrial, has created the STEYR Konzept, which encapsulates a future vision for agricultural machinery. This concept combines innovative technologies in a hitherto unique way to create an environmentally friendly, yet efficient and, above all, functional tractor concept.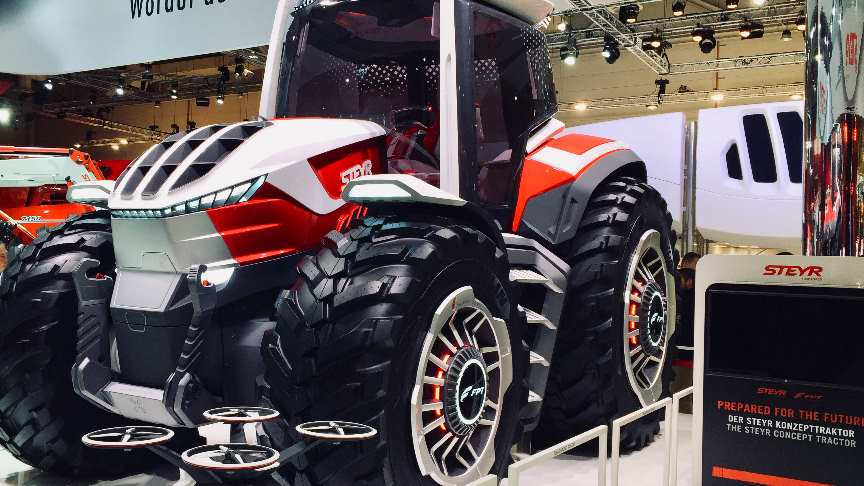 source/image: STEYR Traktoren
At the heart of the system lies a modular hybrid electric drive, comprising a combustion engine, a generator, and several electric motors. The selection of these components creates a compact vehicle design and allows for an optimum overview of the vehicle.Learn more about the technical details of the STEYR Konzept from Franz Josef Silber, Product Manager STEYR.
A concept tractor that is equipped with a standard 4.5-liter four-cylinder diesel power source from FPT. The generator that is connected to it provides the electricity that the rest of the tractor needs.The tractor no longer has a transmission.
Advertisement
The electricity goes directly to the four wheel hub motors and to a fifth motor that drives the power take-off and the hydraulic pump.There is 700 and 48 volts of power available on the tractor. The use of wheel hub motors lowers the vehicle's overall center of gravity, improving stability as well as maneuverability thanks to individual wheel torque deployment and four wheel steering.