RioCamper is a special houseboat for family or group of friends. It is dedicated for 4 people comfortably residing.The motor yacht Sunhunter RioCamper is produced by the brand Sunhunter Yachts since 2022.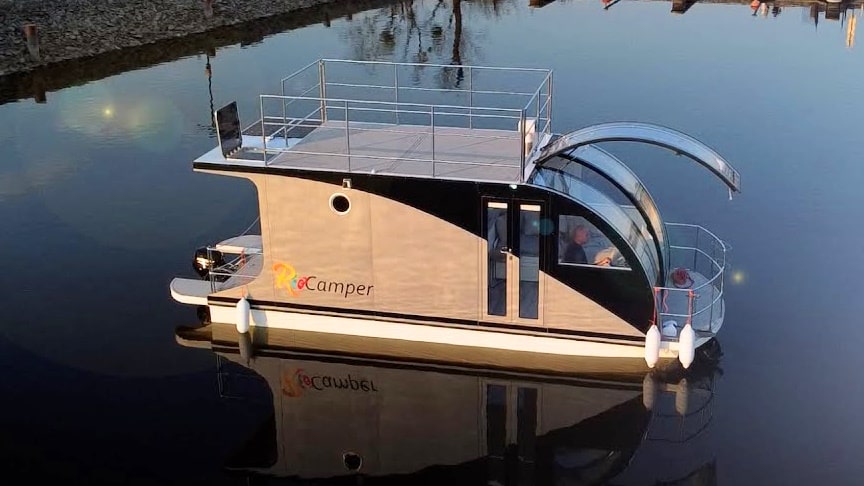 The yacht interior consists of living room combined with kitchenette, where is the sofa with bed function for two. Further on there is a bunk bed and a comfortable bathroom with a shower.
RioCamper is made entirely of marine aluminium (underwater and above-water part). Additionally, it has very good nautical properties.RioCamper is a great alternative to caravanning. We can boldly call it the successor of a campervan for the 21st century.
Advertisement
RioCamper guarantees a lot of space inside and a feeling of maximum freedom on the water. You won't find this anywhere else.The Sunhunter RioCamper is a 7.50 meter aluminium motor yacht with 1 guest cabin and a draft of 0.50 meters.
Basic technical data:
1/ hull length: 7,5 m
2/ total width: 2,5 m
3/ number of hulls: 3 (trimaran)
4/ height of standard railings: 0,75 m
5/ max total immersion: 0,50 m
6/ indoor height: 2,0 m
7/ number of sleeping places: 2-4
8/ drive: 2x 9,9 HP engine
9/ control: electric-hydraulic
10/ design category: D