The Mi-24 "Hind" is a large helicopter gunship, attack helicopter and a low capacity troop transport with room for up to eight passengers. Primary usage and upkeep of the Hind is done by the Soviet/Russian Air Force, and more than 30 other nations have access to them.Soviet pilots often know the hind as the "flying tank", due to its immense armor protection. To date, at least 2,300 units have been produced.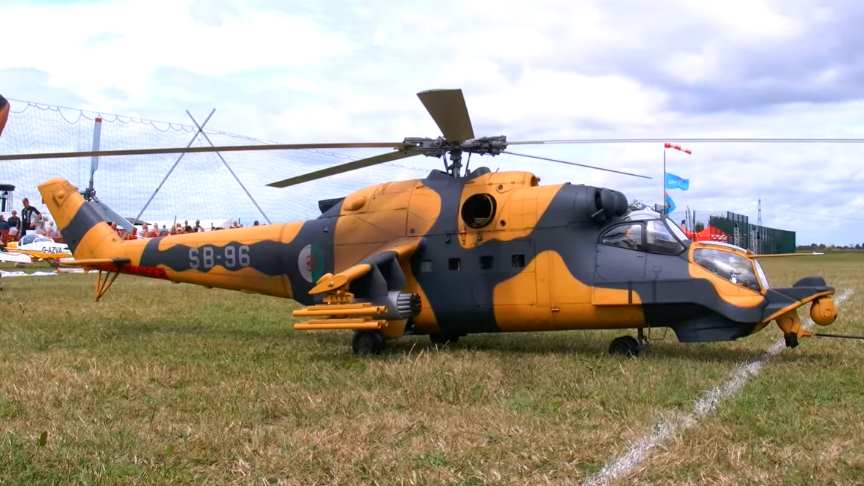 source/image: RC MEDIA WORLD
This heavily armed helicopter can transport 8 fully equipped troops.This RC helicopter is a scale model of a Russian Mi-24 chopper, a monstrous beast that's 2.50 m long. The scale version looks about 1/8th the size.
We don't really know anything about the giant RC helicopter, except the model it's based on, but the video below shows that it really works.
Advertisement
All aspects of the Mi-24 including the distinct round tandem cockpit and large cabin area have been richly reproduced. Providing the model with a sharp finish are parts to depict the rocket pods and anti-tank missiles.
Model: Mil Mi-24 Russian Combat Helicopter
Engine: Turbine
Rotor diameter: app. 2.50 m
Take-off weight: app. 24 Kg
Pilot: Jörg Rabenstein
Builder: Matthias Strupf
Owner: Jörg Rabenstein
Event: Euroflugtag Rheidt Germany August 2019