Suzuki Cappuccino review! The Suzuki Cappuccino is a tiny Japanese sports car — and today I'm reviewing it! I'll show you all around the Cappuccino, and I'll show you all the quirks and features of the little Suzuki sports car. Then I'll drive the Suzuki Cappuccino and show you what it's like behind the wheel of this little car.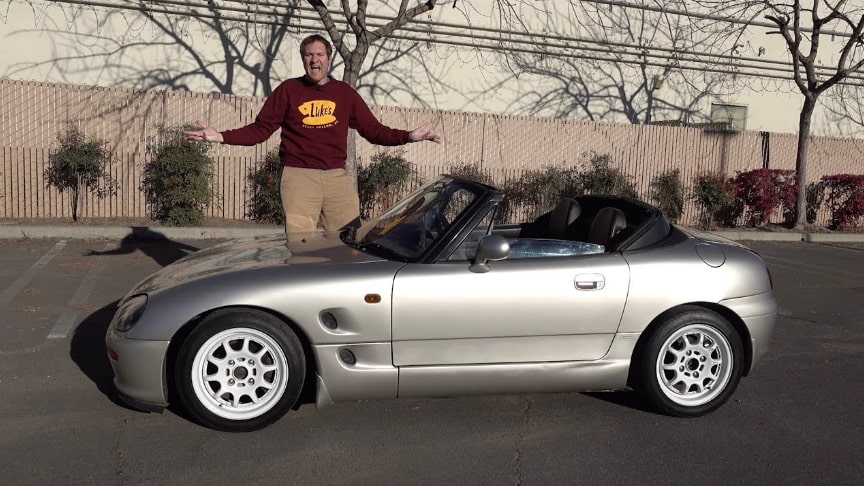 source/image(PrtSc): Doug DeMuro
The vehicle was designed to meet Kei car specifications for lower tax and insurance in Japan. Weighing 725 kg , the Cappuccino is powered by a turbocharged, three-cylinder, 657 cc DOHC engine (just under the 660 cc maximum displacement allowed for a Kei car). Its dimensions also conformed to Kei car regulations on length and width, being 3,295 mm long and 1,395 mm wide.
Front-rear weight distribution is claimed to be 50/50% when both seats are occupied. Layout is front mid-engined and rear-wheel drive. The hood, roof, roll bar and lower front guard panels are aluminium.
Advertisement
Three removable roof panels mean that the car can be used as a closed coupé; T-top; targa; or, on retraction of the rear window and roll bar, a full convertible.It was originally equipped with the F6A engine: later models were fitted with a K6A engine which was lighter and had chain-driven, rather than belt-driven camshafts and more torque./wikipedia