This stunning craftsman tiny home built atop a 30' Iron Eagle PAD Tiny Home trailer is of a quality you have never seen!There are TWO generous lofts that can each be used as a sleeping area, 12.5' of kitchen, an enormous amount of storage, walk through laundry room/closet area, a built-in dining table, and a built-in sofa with storage.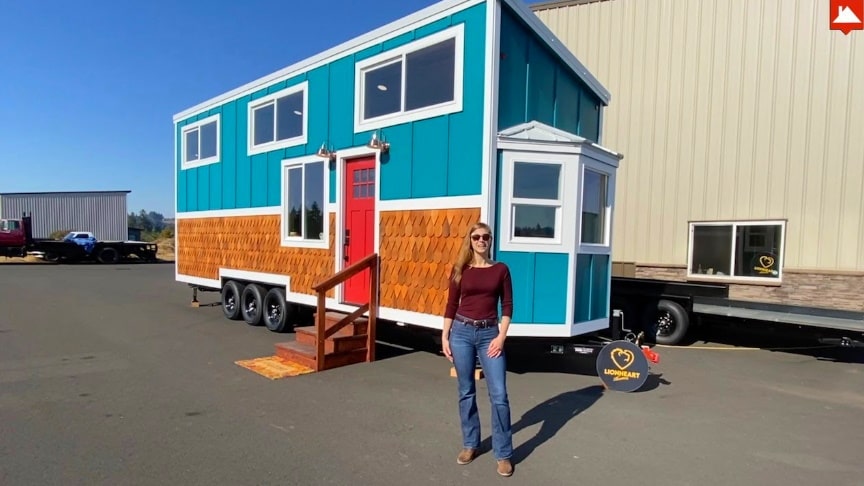 image: Tiny House Listings
Back to our Duchess, it comes with two lofts, one on each side. The tiny house offers 350 sq ft (32.5 sq m) of space, with the kitchen alone measuring 13 ft (3.9 m) in length.
It is equipped with everything you see in a normal-sized house, from a deep (30'/76 cm) farmhouse sink to a full-size, four-burner stove with oven, a ton of cabinets and drawers, and a full-size fridge that's placed into the stairs leading to the main bedroom.
Advertisement
There are also drawers built into the stairs, for more storage.he Duchess model features:Propane fireplace,24″ Propane range,Apartment sized refrigerator,All-in-one washer/dryer,5' bathroom,Surround sound in living area,Mini split heating and cooling system,Flushing toilet but also have an outlet for plugging in a composting toilet.,On demand hot water tank,40R value in floor and ceiling, 15R in walls.