The Hitch Hotel is the "World's First Expandable Wheel-less Trailer" It's supported by a vehicle's trailer hitch and does NOT require wheels to transport it to its destination. In its closed position, the Hitch Hotel provides over 60 cubic feet of secured, watertight space.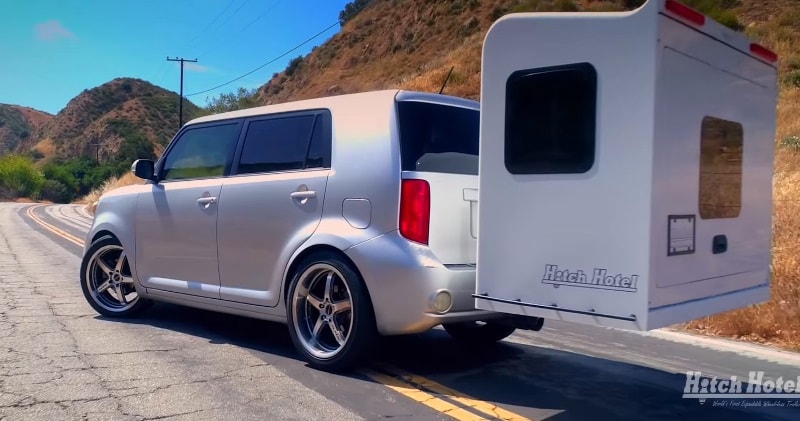 source/image: hitchhotel
Bicycles, ice chests, luggage, sporting goods, all can be transported safely in the Hitch Hotel. In its open position, the Hitch Hotel becomes a RV that provides over 135 cubic feet of space.Two full size adults can comfortably sleep inside the Hitch Hotel.
With a dry weight of 240 lbs, the Hitch Hotel can hold 100 lbs of cargo or even more depending on your vehicle's hitch class.Built from T6 aluminum and light weight fiberglass, the Hitch Hotel will fit on ANY vehicle with a Class III trailer hitch.
Advertisement
There's no heavy lifting, and you can disconnect the Hitch Hotel from your vehicle anywhere. And when your journey is over, the Hitch Hotel stores in less than 3 feet of space!In its closed position, the Hitch Hotel is a storage locker for all your stuff! Bikes, luggage, tools, fishing poles, snowboards, wakeboards etc, all store inside securely as you travel to your destination.