The FERRARI FUTURA TWIN is a fully automated transplanter that can work with vegetables stored in trays of different sizes and materials (hard plastic, foam, disposable). The machine works by itself (only one operator is required to feed the transplanter robots with trays).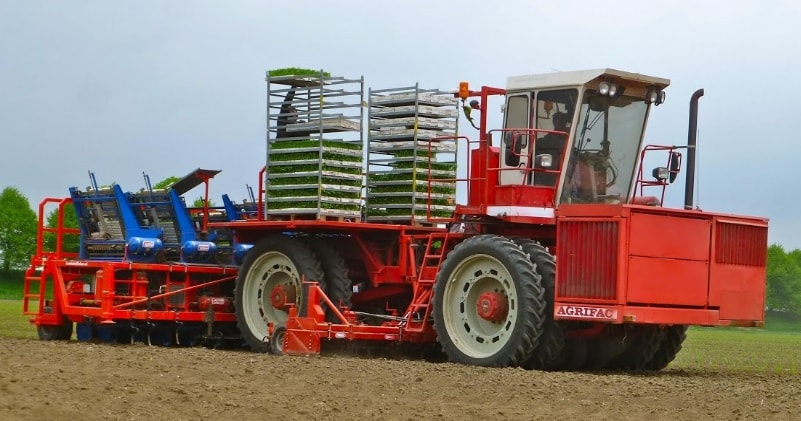 source/image(PrtSc): Tractorspotter
Every robot extracts the seedlings using a technology based on cylindrical plungers combined with moving fingers. There is no need to use a specific tray to run FUTURA, the machine will be adapted to the tray selected by the user: this is one of the features that makes the Ferrari automated planter a very innovative and versatile machine.
Planting Celeriac with an full Automatic Ferrari Futura Twin 12 Row planter from contrator J.C. Lokers of Zevenbergen in The Netherlands.nderneath the converted Agrifac ZA-215 beet harvester hangs a 5 meter wide power harrow. Which makes it possible possible to prepare the soil and planting in one pass.
Advertisement
The FUTURA TWIN automatic transplanter is equipped with a shuttle device to feed two rows of plants with every robot installed on the machine (this system has been developed to reduce the row distance to a minimum of 30 cm (12″) – special frames can be produced for narrower distances). The transplanter carousel is turning in clockmotion (STOP&GO).