"Welcome to the Invisible House. Re-launched in November 2022 as a joint venture with Fieldtrip Hospitality."Imagine a piece of modern art…one of the most spectacular homes in the world on all of Airbnb" – Brian Chesky, CEO of Airbnb. We invite guests to experience the most unique desert home on the planet, and one of the best-known homes in the world: the Invisible House.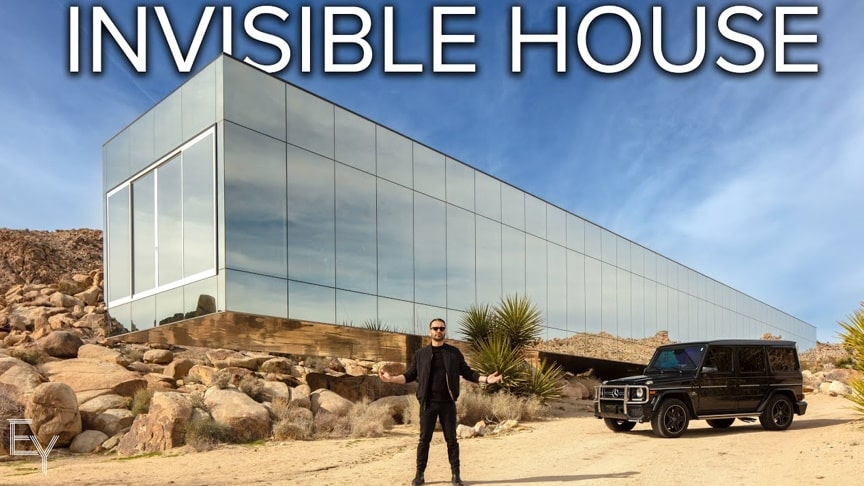 source/image: Enes Yilmazer
This one-of-a-kind masterpiece was designed by veteran film producer Chris Hanley. Featured in countless music videos, television shows and dozens of publications worldwide (including Netflix, Robb Report, Architectural Digest, Washington Post, People, Daily Mail, Dezeen, and Maxim), this sleek 5,500 sq. ft. minimalist retreat is set on 90 breathtaking acres comprising the largest privately-owned parcel of land abutting Joshua Tree National Park. Watch the video from Enes Yilmazer where he makes a full tour of the Invisible House.
An exploration in contrasts, the mirrored 22-story horizontal skyscraper features an entirely reflective facade that absorbs its surroundings and vanishes into the desert landscape. The juxtaposition of sleek minimalism and ancient desert terrain makes Invisible House a singularly definitive structure in blending modern architecture with the natural world.
Advertisement
You and your guests will have complete access to the 3 bedrooms in the main house and the 1 bedroom in the detached casita. All are outfitted with top-of-the-line linens, bedding, and spa-like ensuite bathrooms. Congregate in the open floor plan and feel connected to nature, no matter where you are in the home. Bring the outside in by opening the floor-to-ceiling sliding glass doors and fully embrace the Joshua Tree experience."