The vehicle on display was an EasyMile EZ10 fully autonomous driverless shuttle. The EZ10:Has been designed to cover short pre‐defined routes through embedded and localisation technologies developed by EasyMile.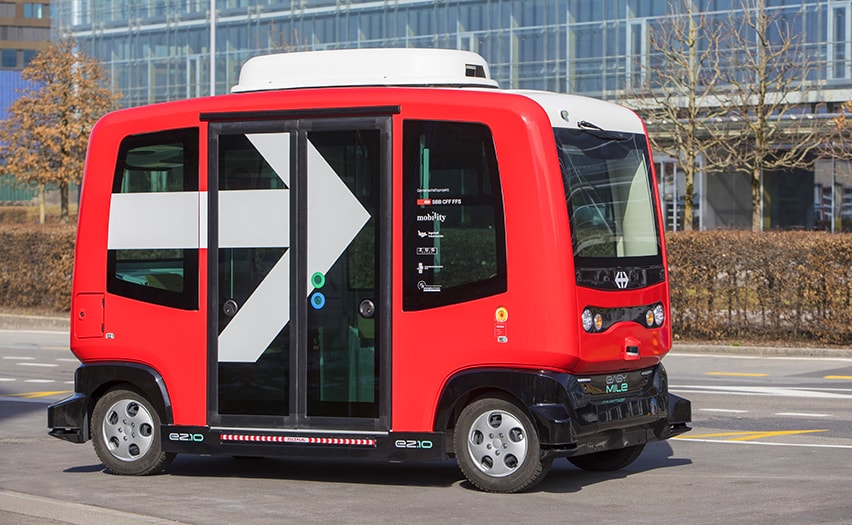 source/image: Transdev
Used the latest technology to safely respond to environmental changes like moving pedestrians, cyclists and other vehiclesCan carry up to 12 people (6 seats and 6 standing positions). It is also accessible to people with disabilities thanks to its access ramp.
The EZ10 Shuttle can hold up to 12 people and will travel in mixed-use traffic at speeds of up to 15mph.EasyMile EZ10 contains an in-built access ramp for mobility-challenged passengers, can operate on fixed or on-demand routes – or existing roadways with no additional infrastructure required, and is managed via EasyMile's fleet management software.
Advertisement
EZ10 autonomous vehicle enabling smart mobility in urban, suburban or private areas. Designed to bridge the gap between hubs and to enable new mobility for public and private sites, it is the most deployed driverless shuttle in the world.
Some of specifications:
Gross Vehicle Weight (GVW) 3,130 kg (4 battery packs and enhanced A/C)
Dimensions (LxWxH) 4,050 x 1,892 x 2,871 mm
Minimum turning radius 5 m
Energy Electric (Battery type LiFePo4)
Battery capacity 30.72 kWh
Vehicle Range up to 16 hours
Charging time 6 hours
Direction Unidirectional
Max. speed 45 km/h, electronically limited to 25 km/h