The Truck Surf Hotel is a two-story, five-room bed-and-breakfast hotel built onto a Mercedes Actros truck chassis, which serves the surfing community by following the waves from beach to beach along the coasts of Portugal and Morocco in a weekly cycle.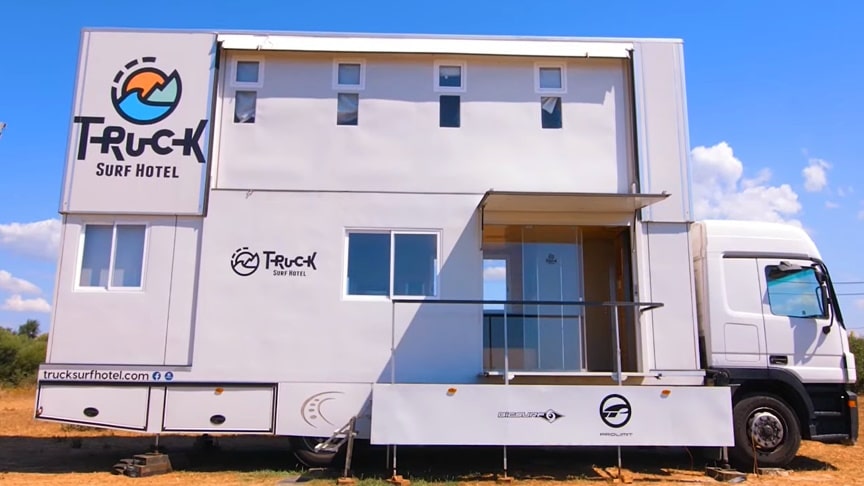 source/image: Truck Surf Hotel
Based on a Mercedes-Benz Actros, this vehicle makes it possible to always have your own home "with you" and to enjoy every moment.Light wood paneling gives the truck a nautical vibe, while muted fabrics and furnishings allow travelers to truly appreciate the sights outside of their windows.The Truck Surf Hotel is the perfect place to make new friends; it's also great if you're traveling with a group!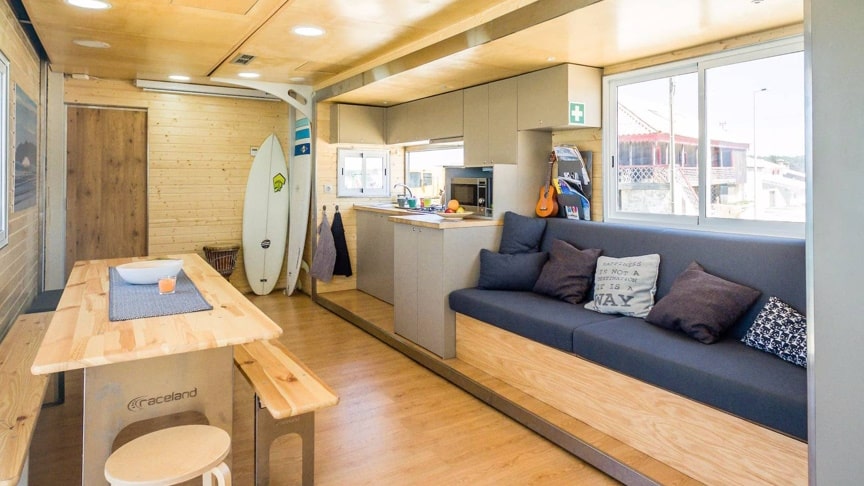 source/image: Truck Surf Hotel
The hotel is a self-contained module on the back of the truck, with a 100mm steel box-tube frame and 12mm rigid insulated fiberglass panel walls. When fully contracted for travel, the truck measures 11.2 metres in length, 2.55 metres in width, and 4 metres (13 ft) in height.
Advertisement
The first floor features a living room decked out with couches and an eating space, bathroom with a shower, and a small kitchen.Upstairs you'll find five rooms, four of which have bunk beds. Of course, should you book a stay, we imagine you won't spend too much time indoors.
There are four leveling jacks, and the second floor expands upwards, both via a hydraulic mechanisms, bringing the expanded height to 6.5 metres.
A deck expands 85 centimetres outward from the "front" of the lower level of the hotel, while the four smaller rooms expand outward from the front of the upper level, and the kitchen and lounge expand 102 centimetres outward from the back of the lower level, bringing the overall expanded width to 4.42 metres.