With the apocryphal tale of Vincent-HRD Series A twins being conceived as a result of two single-cylinder drawings being overlapped, it could be said that the post-war single cylinder engine was brought about by the use of a rubber – removing the rear cylinder of the existing twin-pot design.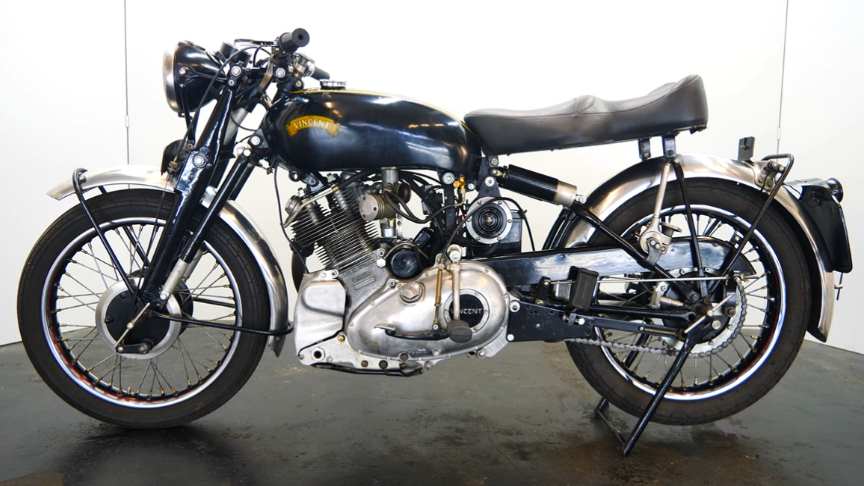 source/image(PrtSc): classic-motorcycle.com
In other respects, the layout was almost identical, with the same 'frameless' cycle parts being employed for both types. On the singles the rear cylinder was replaced with a cast alloy beam, and the gearbox employed was the familiar Burman item, the older versions of which had been popular before the war.
Announced in late 1948, a few Series B Meteors were produced before it was joined soon after by the Comet in Series C form with Girdraulic forks, as opposed to the Brampton girders on the Meteor. The Comet was a little more expensive, being equipped with the new forks, a higher compression ratio, front propstands, and a modified, slightly longer, rear frame section.
Advertisement
In most other respects the bikes were very similar. It remained in the model range from its inception in 1948 until 1954.This Comet Series C spent his whole life in UK in ownership of only one family from new. It's converted to 12V electric system and has a reliable Lucas electronic ignition. This sporty bike runs fine./via/read more: classic-motorcycle.com
Manufacturer: Vincent
Model: Comet Series C
Year: 1951
Displacement: 500 ccm
Cylinder: 1
Engine type: 4-stroke / ohv
Bore / Stroke: 84 x 90 mm
Power: 28hp @ 5800 RPM
Weight: 187 kg
Top Speed: 140 km/h