Rvhaulers custom build beds of various designs behind the sleeper. This large space can accommodate a Smart Car behind the sleeper. There are many designs, and budgets! We tour Rick's NEW 2015 Volvo Model 730. It has been outfitted with our PHOENIX hydraulic smart car loader.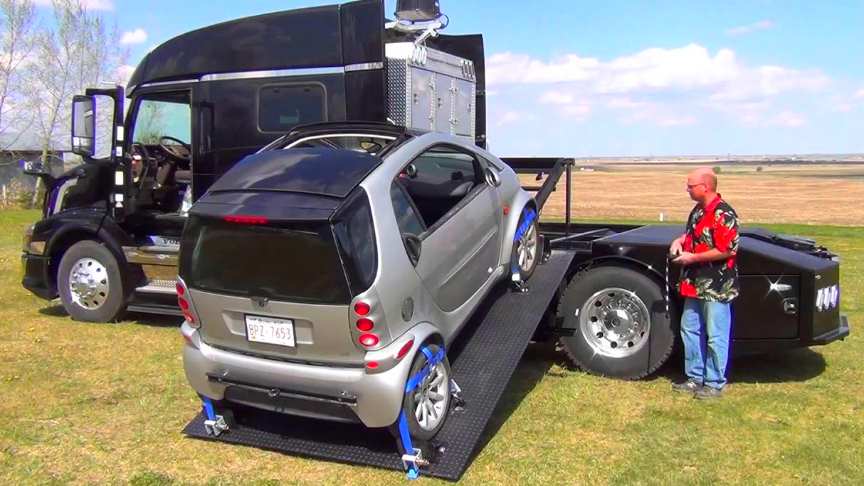 source/image(PrtSc): All About RVHaulers with Gregg
Rather than loading with a winch and ramps, this loader offers an alternative way of carrying your Smart For Two car, ATV or motorcycle. It certainly makes a manly-man statement in the campground when you arrive! This unique loading system allows plenty of room for Smart Cars, 2 full size motorcycles, lawn and garden tractors, golf carts and More!
The measurement from the front bumper of the truck to the back of the sleeper is approximately 16 feet for a Volvo 780. (that leaves us 49 feet for trailer, and deck).I need 5 feet of deck space to allow for the hitch connection, and to allow you to jack-knife the trailer. (that leaves us 44 feet of length for the trailer and deck).
Advertisement
If you want to carry a vehicle length-wise (perhaps a jeep that is 12 feet long), we start to run into length problems. We start to have a rig well beyond 65 feet.We only need 7 feet of width for a smart car – that is why we usually make a 13 foot deck for a Smart and 5th wheel hitch. Then, subtract the depth of the drom box – 16 inches. That is why the smart cars are the most popular option