As its Xploration Forum in Eskilstuna, Sweden, Volvo Construction Equipment demonstrated the prototype HX1 autonomous, battery-electric load carrier. This completely cab-less concept vehicle will serve along with a hybrid wheel loader and a grid-connected excavator as part of an electric site research project hosted at one of Skanska Sweden's quarry sites.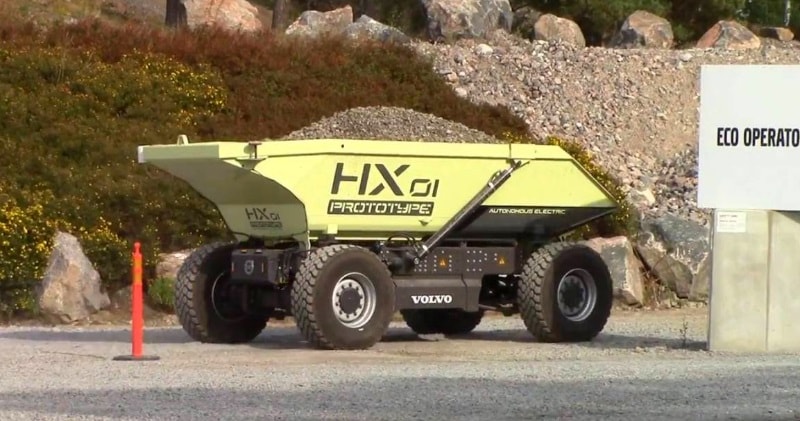 source/image: Equipment T.M
The battery-electric vehicle with on-board hydraulics is the latest development in the company's electric-site research project that aims to transform the quarry and aggregates industry. It predicts up to a 95% reduction in carbon emissions and up to a 25% reduction in total cost of ownership.
The machine measures about 18 feet long and 8 feet wide and has an operating weight of 14,300 lb. It has 4-wheel drive and 4-wheel steering with a maximum speed of 25 mph. And because the vehicle has no driver or cab, it allows a bidirectional work cycle with no reversing, and it permits crab steering for easy positioning.
Advertisement
The carrier will be powered by three electric motors. Two will drive the wheels. Because the carrier is powered by electricity, it's more efficient to use an electric drive, rather than hydraulic motors. A third motor will power the unit's hydraulic pump with rated flow of 21 gpm. High-pressure hydraulics, in turn, will handle steering actions and actuate the dump cylinders.