In WWII after the D Day invasion US Airborne troops needed something less than the standard Jeep to get themselves around on,the answer came from Cushman motor company, in the form of a motor-scooter that could be parachuted in along with the troops.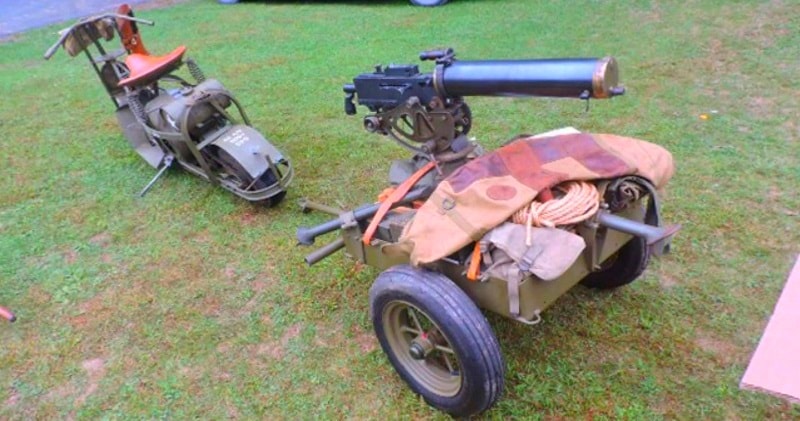 source/image: oddball759mm
The Cushman Airborne was designed to fill this gap, and help our Airborne troops get moving to the next battle.The Cushman Airborne model 53 was a one-cylinder, kick-started, 4.6-horsepower motor with roller bearing crankshaft, two-speed gear box, and magneto ignition. Top speed was 40 mph.
It could handle a 25% grade and could carry a 250-pound load. The Model 53 could travel 100 miles on a full tank A detail walk around video of a Restored WWII Cushman M53 Airborne scooter, M3A4 ammo cart, and M1917 Browning MG. Video was filmed at the 2015 Red Ball military Vehicle show Gilbert PA.//oddball759mm
Advertisement
The M3A4 ammo cart were mainly used from American Airborne units, Mountain Troopers, Rangers and other units in World War Two WWII when they operated in terrain where it was impossible to haul ammunition and supplies in or behind vehicles.